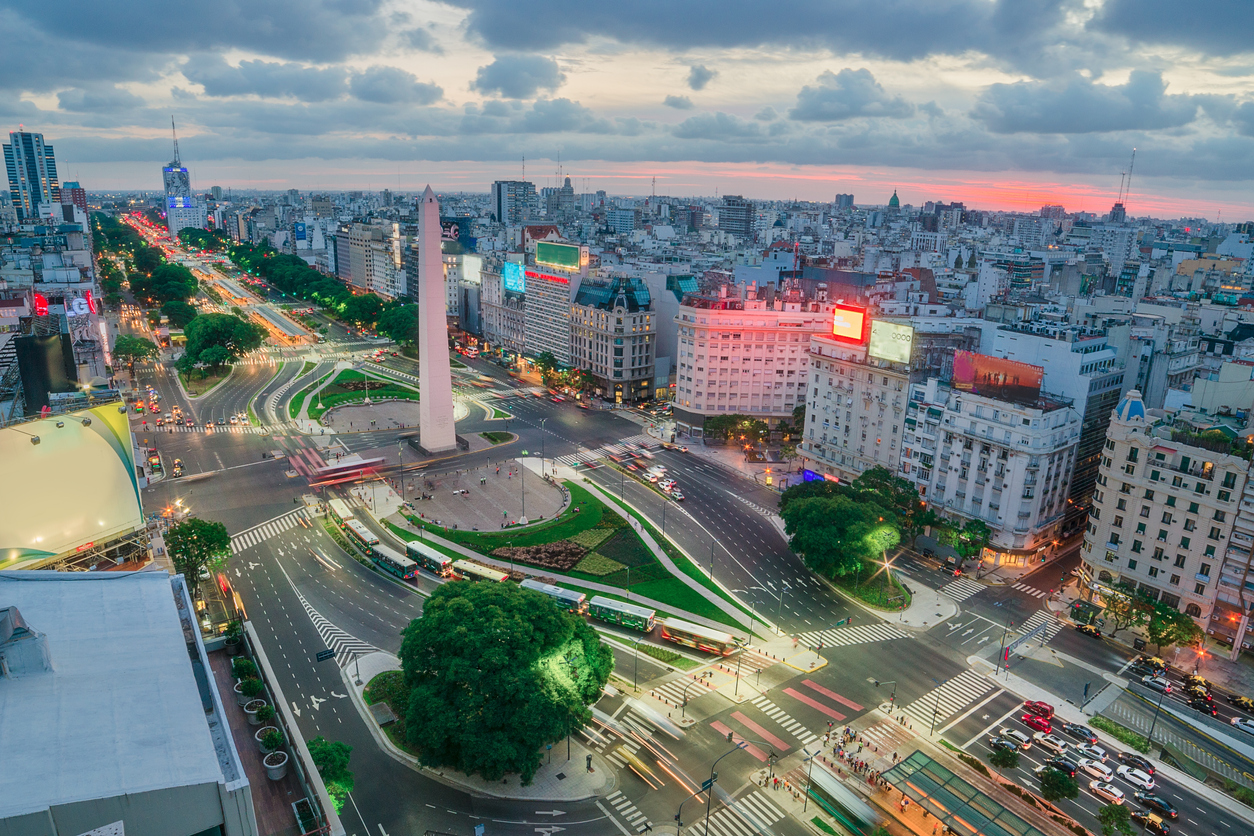 Low unemployment and positive hiring intentions characterize Argentina post-COVID-19.
By Mary Anne Thompson, Founder and President, GoinGlobal, Inc.
Argentina has abundant natural resources, an educated workforce and strong agricultural and industrial sectors. It's experienced serious economic crises over the past several decades ─ it's been in recession one-third of the time since 1950, and four out of ten people live in poverty ─ but it nevertheless continues to have one of the region's strongest economies.
Countries in Latin America, including Argentina, report the most positive hiring intentions, according to staffing agency Manpower's latest employment outlook survey. At the time of writing, the unemployment rate is 8.2%, the lowest in five years.
The pandemic had a significant effect on Argentina's informal workers and the self-employed, and it destabilized the country's already faltering economy. 
The outlook for the near future is hard to predict, but it seems there will not be a hiring boom and that instead job growth will occur slowly. Informal work and self-employment appear to have increased recently, but formal jobs are growing only gradually and not expected to reach pre-pandemic levels any time soon.
Areas of Job Promise
Before the pandemic, sectors with the most jobs included commerce, tourism, hotels, catering, transport, domestic work and cultural activities.
Recently, the creation of formal jobs in the private sector is led by the construction, industrial, agricultural, tourism and food sectors, although these last two sectors still haven't fully recovered from the shock of the pandemic.
Although employers are still cautious, hiring expectations for the near future are up in some sectors, according to a recent Manpower Employment Outlook Survey, which surveys hundreds of employers. Agriculture and fishing have the strongest outlooks, followed by construction, manufacturing, public administration, education, and retail and wholesale.
Nearly three-quarters of Argentine employers report having difficulties filling positions, according to Manpower. The top sectors/functions needing workers are:
Operations/logistics (got a big boost during the pandemic)
IT and data
Manufacturing
Office administration and assistants
Sales and marketing
Below are the top sectors creating jobs at the moment, according to Randstad Argentina:
Sector

Occupations in Demand

Fintech

software engineers, developers, functional analysts, data scientists, UX specialists, digital marketers, new product developers, customer service professionals, risk management professionals

E-commerce

professionals in digital marketing, managers, account managers, full stack developers, UX specialists, data analysts, customer service specialists, logistics and procurement professionals, programmers, web designers, SEO/SEM, social media specialists

Energy

field operators, factory supervisors, geologists, gas, petrol, mining and transport engineers, mechanical, electric, electromechanical, chemical and industrial technicians and engineers. Also cleantech specialists in renewable energy, environment, security and safety.

Knowledge economy/digital transformation

 

STEM professionals in AI, machine learning, robotics, blockchain, IoT, biotechnology and many more science-based professions.

Health care and laboratories

Lab technicians and professionals, patient assistants, nurses, testing center coordinators and assistants, pharmacists, chemists, doctors, biologists. 
Skills in Demand
The top soft skills and traits in demand by Argentine employers, according to Manpower's survey: 
responsibility, confidence and discipline
teamwork and collaboration
taking initiative
leadership
problem solving and critical thinking
Conclusion
Argentina has long dealt with economic challenges. The difficulties of poverty and inflation have been with the country for decades, pandemic or no pandemic. Though COVID-19 was a struggle for the country in many ways, its long-held issues remained consistent. Coming out of the pandemic, however, there has been some positive news. Argentina reports low unemployment and positive hiring intentions. A gradual, steady increase in hiring is expected. 
Access to GoinGlobal's resource database is provided through subscribing institutions. Contact your school's career center or library for access instructions. Login to your GoinGlobal account here.