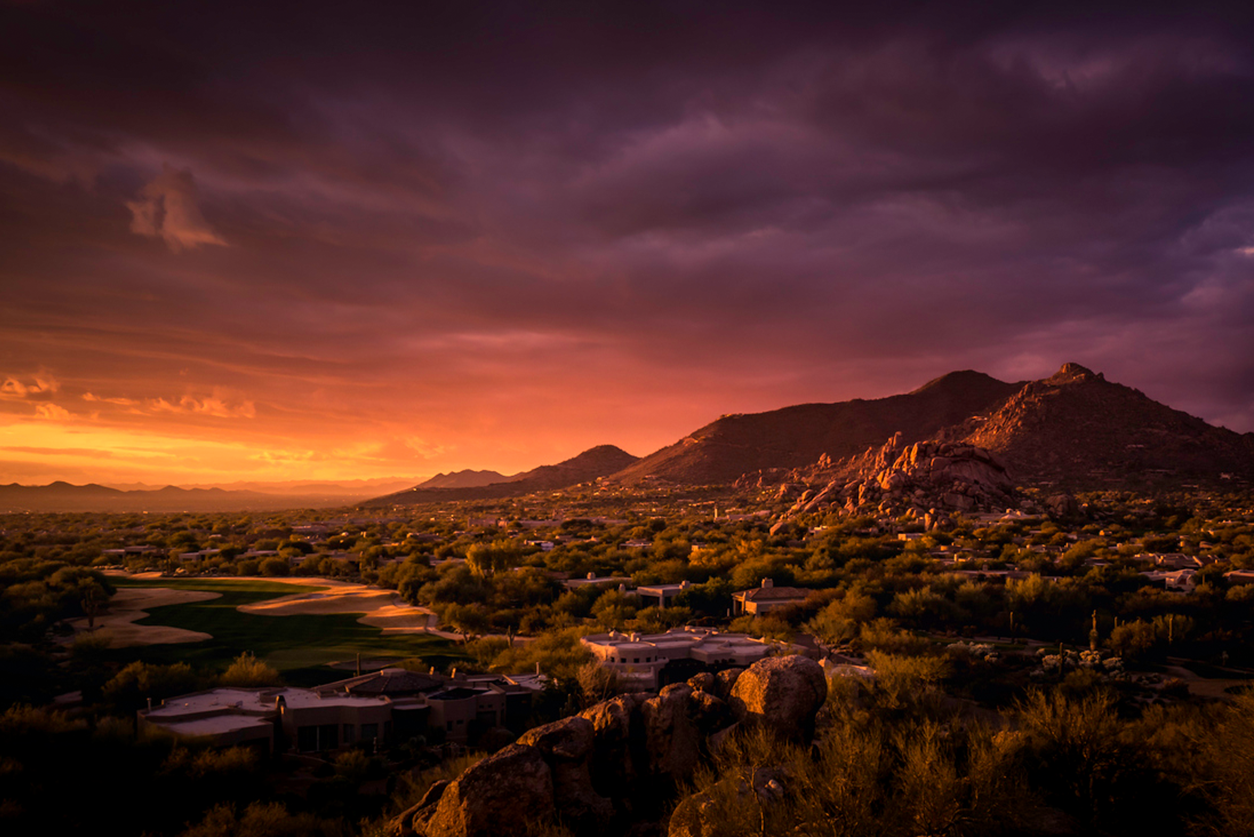 Phoenix, the U.S.'s fastest-growing city offers career opportunities across sectors.
By Mary Anne Thompson, founder, and president of Goinglobal, Inc.
Attracted by sunny skies and jobs, people are flocking to Phoenix. It's the fastest-growing city in the U.S. for the fifth year in a row, and its population grew by nearly 25,200 people last year. This year, US News & World Report ranks it as one of the best places to live in the U.S.
Phoenix is situated in what's now being called the Silicon Desert. Within driving range are several smaller cities, which include Scottsdale, among the best cities to find a job right now, and Chandler.
The metro region comprises Maricopa and Pinal counties, and includes the cities of Tempe, Scottsdale, Chandler, Mesa and Glendale. Phoenix, located in Maricopa County, is now the fifth-largest city in the US.
Areas of Job Promise
Economic growth had been steady here until the COVID-19 pandemic hit, when 288,060 people quickly lost jobs. Unemployment jumped to 13.5% but didn't stay there long.
The economy has improved in the last year, and employment has rebounded to near pre-pandemic levels. Currently, local employment stands around 2.39 million, adding 245,075 jobs back since lockdown began. Employment is still about 43,000 less than pre-pandemic levels.
The unemployment rate hasn't quite rebounded back but it's improving. The current rate is 6.1%, similar to the national unemployment rate of 6% and slightly lower than Arizona's rate of 6.7%.
Phoenix employers are optimistic about hiring in the next several months, according to the latest Manpower Employment Outlook Survey. Job prospects will be best in construction, non-durable goods manufacturing, transportation and utilities, wholesale and retail trade, professional and business services, education and health services, and leisure and hospitality. Hiring in financial activities is expected to decline, while hiring in durable goods manufacturing, information, other services and government is projected to remain the same.
The following industries are expected to see above-average growth through 2029:
Warehouse and storage
Couriers and messengers
Social assistance
Food manufacturing
Miscellaneous manufacturing
Ambulatory health care services
Nursing and residential care facilities
Professional, scientific and technical occupations
Salaries
Wages and salaries have grown faster in Phoenix than in the nation as a whole over the past year. Incomes for private industry workers increased by 3.4% over the past 12 months, compared to 2.8% nationally. The average annual salary is 54,870 USD.
The following are average hourly wages for some selected occupations in the metropolitan area.
| | | |
| --- | --- | --- |
| Occupation | Average Hourly Wage, Phoenix (USD) | Average Hourly Wage, National (USD) |
| Chefs and head cooks | 23.50 | 26.06 |
| Electrical engineers | 48.56 | 50.96 |
| Human resources managers | 57.77 | 64.70 |
| Registered nurses | 39.13 | 38.47 |
Source: US Bureau of Labor Statistics
Industry Trends
Accounting and Finance
The area's finance sector has fared well through the pandemic, only losing about 4,000 jobs. Employment levels have stabilized and are about the same as they were 1 year ago, at 204,000 workers. In the last decade, the sector has added about 62,200 jobs.
In-Demand Financial Occupations through 2029:
Billing and posting clerks
Bookkeeping, accounting and auditing clerks
Claims adjusters, examiners and investigators
Financial and investment analysts
Business Management and Marketing
Greater Phoenix is becoming a major hub for business operations. Employment in professional and business services has been growing for a decade in Phoenix, adding more than 100,000 jobs since the recession. When the pandemic hit, the sector lost about 30,000 jobs, most of which have been recouped.
In-Demand Business Occupations through 2026:
Business operations specialists
Compensation and benefits managers
Customer service representatives
General and operations managers
Human resources specialists
Engineering
Phoenix's strong advanced manufacturing, construction and biomedical industries all support the local engineering sector. Approximately 40,890 architects and engineers are employed in the metro area.
Engineering occupations projected to see the most growth through 2029:
Architects
Civil engineers
Electrical engineers
Industrial engineers
Mechanical engineers
Healthcare
The region's health care industry has grown in step with its retirement communities to become a vital sector. Many people spend their retirement years in sunny Phoenix, and as they age, they require more trips to the doctor. As a result, the area is expected to add approximately 35,650 health care and social assistance jobs over the next decade.
Selected Health Care Occupations with Above-Average Projected Gains in Employment Through 2029
Athletic trainers
Audiologists
Cardiovascular technologists and technicians
Health care social workers
Hearing aid specialists
Info/Communications Technology
This year, while tech employment across the nation saw losses thanks to the COVID-19 pandemic, Arizona added tech jobs, making it the 8th-best state for tech employment gains. About 2,500 jobs were added statewide and another nearly 7,000 are expected to be added this year.
In-Demand IT Occupations through 2029:
Computer network architects
Computer network support specialists
Computer systems analysts
Database administrators
Information security analysts
Conclusion
Phoenix's economy has bounced back from the pandemic well. It continues to hire across multiple job sectors and prospects look good for that to continue in the future. The U.S.'s fastest-growing city keeps doing what it does best – growing – while adding to its payrolls.
Access to GoinGlobal's resource database is provided through subscribing institutions. Contact your school's career center or library for access instructions. Login to your GoinGlobal account here.