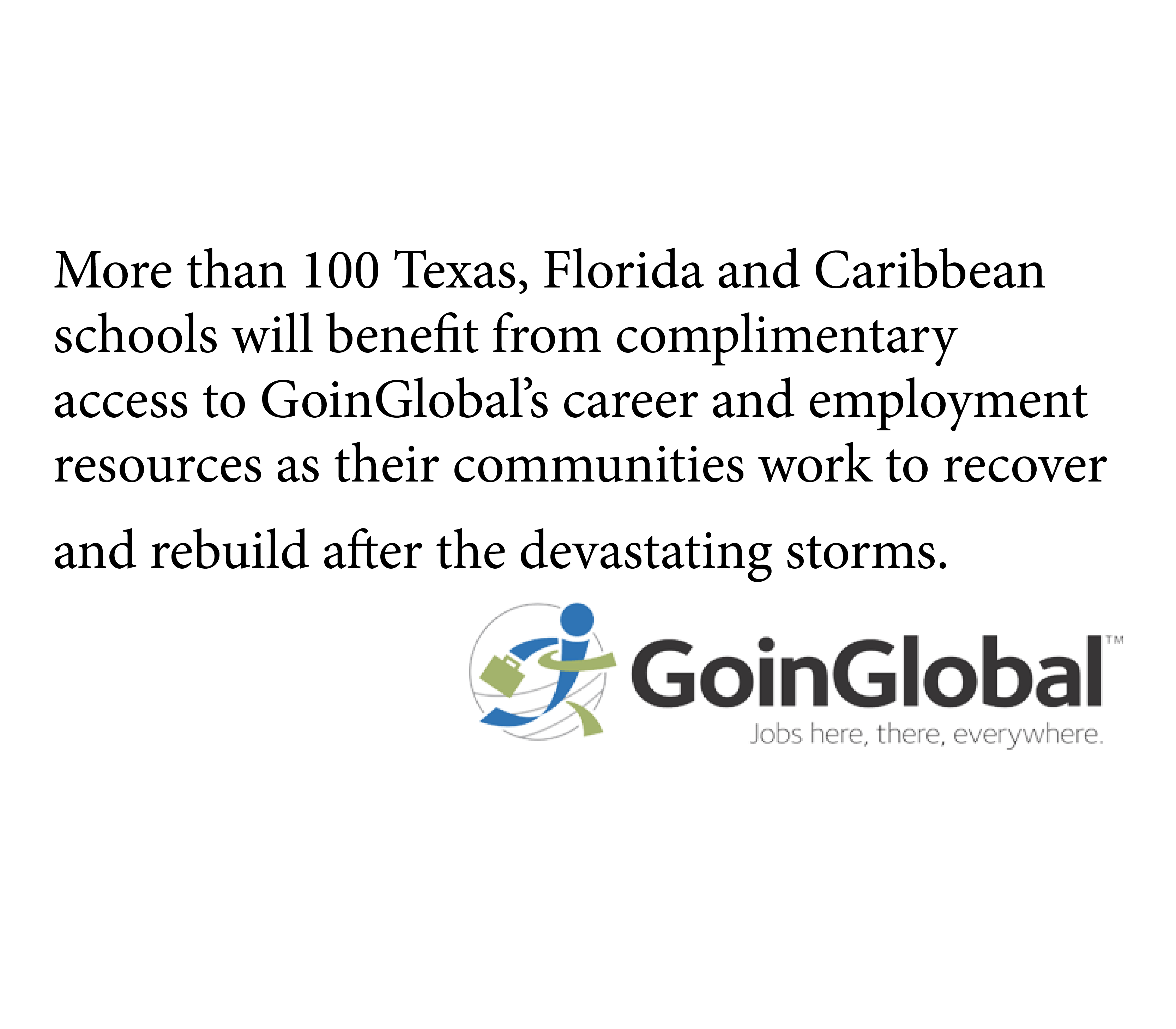 More than 100 Texas, Florida and Caribbean schools will benefit from complimentary access to GoinGlobal's career and employment resources as their communities work to recover and rebuild after the devastating storms
[MOBILE, Alabama, USA] — GoinGlobal announced today that it will donate its market-leading career and employment database service to more than 100 Texas, Florida and Caribbean colleges and universities affected by Hurricanes Harvey, Irma and Maria. These schools, who do not have the benefit of GoinGlobal resources today, will receive complimentary access to GoinGlobal for their students and staff for one year. The value of these donated services exceeds $400,000.00.
GoinGlobal helps job and internship seekers find career opportunities at home and abroad. Academic career centers, study abroad offices, international studies departments and libraries rely on GoinGlobal's expert-created career resources to fast-track student and alumni employment searches both at home and abroad. The service supports job placement goals for higher education and the growing trend toward globalization.
"As Texas, Florida and the Caribbean communities take on the daunting task of rebuilding after Hurricane Harvey, Irma and Maria, we wanted to show our support for the colleges and universities in hard-hit cities and towns," said Mary Anne Thompson, Founder and CEO of GoinGlobal. "It is our hope that this small gesture will help school administrators, study abroad specialists and career counselors in the year ahead as they work with students and alumni to achieve their career goals." GoinGlobal made a similar donation to Louisiana schools following Hurricane Katrina.
Thompson founded GoinGlobal 18 years ago as a result of her own job hunting experience in Sweden. Today, more than two million individuals rely on GoinGlobal to expand their employment horizons. Prior to founding GoinGlobal, Thompson was an attorney in the White House for President Ronald Reagan.
About GoinGlobal
GoinGlobal is an online, subscription-based career resource for job and internship seekers that serves more than 735 organizations, including educational institutions, libraries, corporations and government entities. More than two million users benefit from the constantly updated employment information and resources, which are researched by GoinGlobal career experts located worldwide. GoinGlobal is committed to providing useful, actionable career information that is constantly expanding to meet the evolving needs of global job seekers.
Contact kelly@goinglobal.com or 612.237.9302 for more information.
###