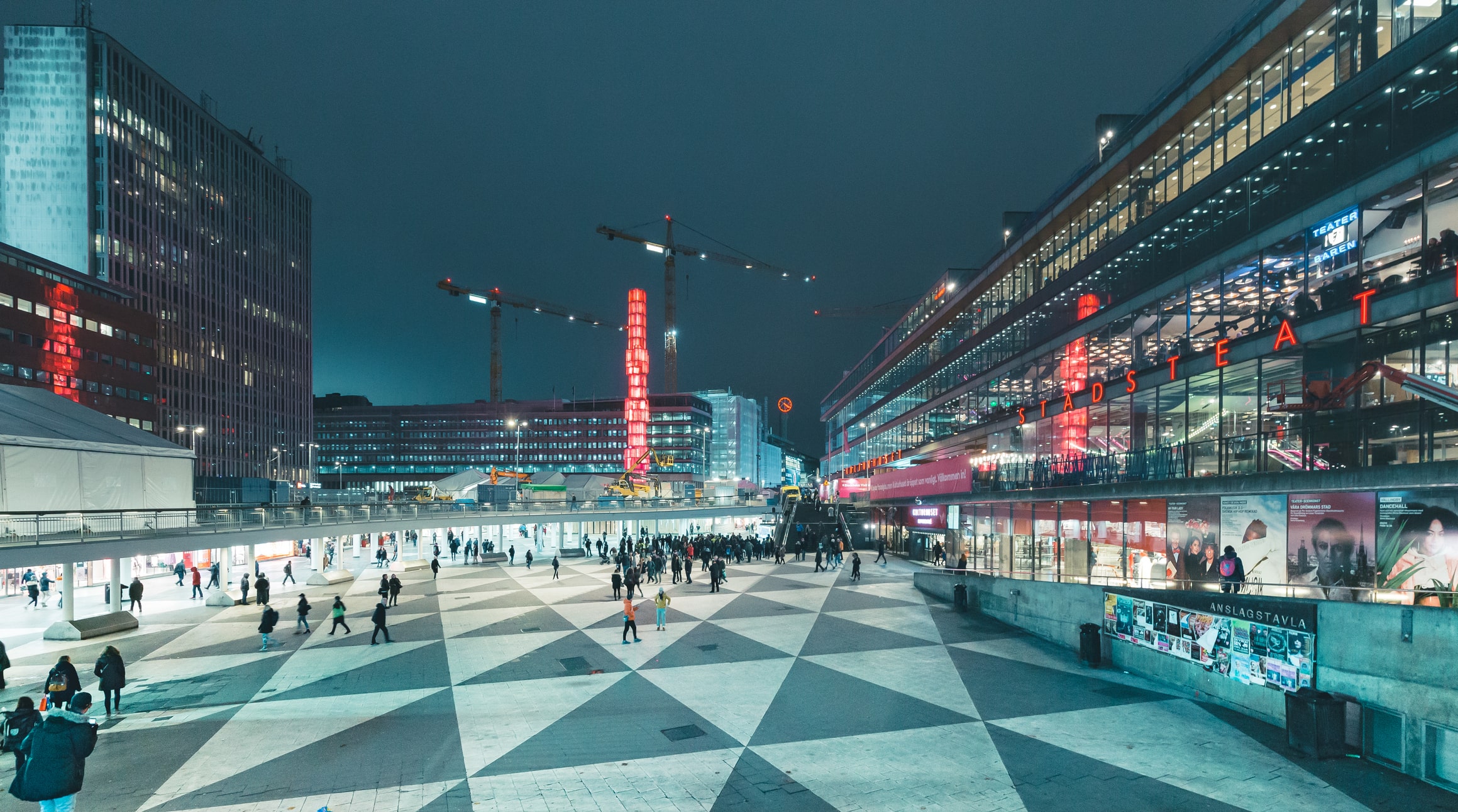 Often listed among the happiest countries in the world and one of the wealthiest, Sweden has long been a favored destination for tourists and expats alike. The Scandinavian country has welcomed millions over the years, particularly to its picturesque capital city, Stockholm, which is host to the annual Nobel Prize ceremonies; home to more than 50 bridges, numerous green spaces and parks, and beloved narrow cobblestone streets; and the cultural heart of the country.
The seat of the Swedish monarchy, Stockholm has been the political, cultural and economic center of Sweden for much of its 700-year history. It stretches across 14 islands on Lake Mälaren and opens towards the Stockholm archipelago and the Baltic Sea. it seems like everywhere you look, you will see the water. Then, there is the beauty and history of Gamla Stan, the old town, one of Europe's best-preserved medieval centers, which stretches out in front of the Royal Palace. If these attributes aren't enough, Stockholm is a safe place to travel, transportation is abundant and easy to use, and there is plenty to do. Before traveling anywhere, it's best to do your homework. Here are some good things to know about Stockholm before you go:
Where to Visit
The Stockholm metropolitan area includes 26 municipalities. The city of Stockholm is divided into many unique neighborhoods with their own character and culture.
Gamla Stan – The Old Town: Gamla Stan is right next to the Royal Palace and has 17th-century narrow streets and residential houses. Restaurants, cafés, souvenir shops, and Swedish crafts make this part of town a popular tourist spot all year round.
Södermalm: Located in the southern part of the city, the picturesque Södermalm, also called Söder, is home to creatives, artists and the cultural elite. Once a working-class neighborhood, with some houses hundreds of years old, Södermalm is now a posh and chic residential area with many designer and art shops, funky cafés and popular restaurants.
The City Center: The heart of Stockholm's city center is comprised of the Norrmalm and Kungsholmen neighborhoods. Norrmalm is packed with a variety of retail shops, large department stores, and parks. Tourist facilities, such as the Sweden House (Sverige huset) and the Culture House (Kulturhuset), as well as offices and residential houses, give the city center an interesting buzz. Kungsholmen is located in the eastern part of central Stockholm.
Östermalm: Östermalm has always been considered as somewhat of a posh area, with its beautiful old buildings and residential areas, such as Strandvägen to the south, and the expensive shopping street Birger Jarlsgatan, with the city's most popular meeting point, Svampen (the mushroom), stretching west. In the north, Östermalm borders on Djurgården and Gärdet.
Vasastan: The last neighborhood, bordering on all the others, is Vasastan, with the famous Gustaf Vasa Church in the background and Stockholm City Library, the main library. Vasastan is a popular residential area, with picturesque parts such as Siberia, Birkastaden, Haga, Odenplan and Sankt Eriksplan. The famous author Astrid Lindgren lived in Vasastan for 70 years, and the film Karlsson on the Roof, based on a character from her children's books, was played next door to where she lived for many years.
Transportation
The Storstockholms Lokaltrafik (SL, website in Swedish and English) is Stockholm's extensive public transportation system, consisting of:
the Stockholm Metro, or Tunnelbana
two urban rail systems, Roslagbanan and Saltsjobanan
a suburban rail system, the Stockholm commuter rail
three light rail systems, Nockebybanan, Lidingobanan and Tvarbanan
the Stockholm City Line, Citybanan, a rail tunnel between two prime locations in the city
the Sparvag City tramway
bus lines
the Djurgardsfarjan inner-city ferry route
The SL has a common ticket system throughout Stockholm County, allowing for easy travel between different types of transport. Timetables are available on the website or as booklets, free of charge, at train stations, SL Centers and on buses.
Stockholm has regular ferry lines to Helsinki and Turku in Finland; Tallinn, Estonia; Riga, Latvia; Aland Islands; and Saint Petersburg, Russia.
The Stockholm-Arlanda International Airport (Swedish, English, Mandarin) is the largest and busiest airport in Sweden, with about 26.8 million passengers a year. The airport, located about 40 kilometers (25 miles) north of Stockholm, is the hub for Scandinavian Airlines. Other airports include Stockholm-Bromma Airport, Stockholm-Skavsta Airport and Stockholm-Vasteras Airport.
Safety
Sweden has a low crime rate. The most prevalent types of crime are those perpetrated against tourists: mugging, pickpocketing and credit card fraud.
For all emergencies, dial 112. It is the only number you need for emergencies, whether you want to call an ambulance or reach the police or fire department.
Travelers should always check travel and health warnings at your destination and be aware of situations that may affect your safety. Check with your government to see if it issues such advisories. You might also want to consider registering your travel plans with your government.
The People
With a population of about 2.3 million, the Stockholm metropolitan area constitutes about 22% of the entire population of Sweden. The city of Stockholm proper has a population of about 962,000 residents.
The average age of Stockholm residents is 39.7 years, with 40.5% of the population aged between 20 and 44.
About 32.8% of Stockholm's residents are of a non-Swedish background, including foreign-born and born in Sweden with two parents born abroad. In a recent census, 311,358 foreign-born individuals lived in Stockholm. The largest single group of non-Swedish residents is from Finland, followed by Poland and Syria.
In Stockholm, 90% of residents live in apartments; only 10% live in separate houses.
Unemployment averages 6.3%, with 6.4% of men and 6.3% of women unemployed.
Attractions and Activities
There are a number of colorful festivals and events to look forward to each year. The yearly Pride Festival, Pridefestivalen, attracts LGBTQ visitors from all over the world. In the festival's main area, the 'Pride Park,' there are concerts, shows, and debates.
We Are Sthlm is Europe's largest youth and culture festival, featuring music, concerts and a full-featured activity program for young people ages 13 and 19.
The Royal National City Park, on the island of Djurgården, has a lot of interesting and fun attractions, such as the Vasa Museum, built around the huge warship 'the Royal Ship Vasa' that sank on her maiden voyage in 1628. A visit to the Vasa Museum is one of the main attractions in Stockholm.
Skansen, also located on Djurgården, is the world's oldest open-air museum. It exhibits a large part of Sweden's history, featuring old houses and farmsteads, handicrafts and amusements from all over the country. Skansen also houses the Stockholm Zoo.
Other attractions at Djurgården include art museums such as the Thielska Gallery, Prince Eugens Waldemarsudde, which displays the best artworks by the 'Painting Prince', and the famous Liljevalchs Art Hall, which shows contemporary art. Other museums at Djurgården include ABBA The Museum, the Police Museum, the National Sports Museum, the Maritime History Museum and, of course, the famous children's book author Astrid Lindgren's museum, Junibacken.
On Djurgården you will also find the leisure park Gröna Lund.
Eating out is a favorite pastime of Stockholmers. In the last two decades, the number of restaurants in Sweden has increased from about 15,000 to around 20,000. In Stockholm alone, there are 850 restaurants, with 500 of them located in the central core, offering a wide variety of cuisines from around the world. Sweden currently has 16 Michelin star restaurants, of which seven are in Stockholm, including one-, two- and three-star restaurants.
During the winter, Stockholm is synonymous with skiing. Some people even ski to work. Hiking, fishing, canoeing and rafting are popular during the summer months.
Although rare, the Aurora Borealis can be seen at times from the city, usually during the colder months.
The Right of Public Access (Allemansrätt)
In Sweden, everyone has the right to public access of the countryside. This means that you can roam around freely in nature as long as you do not disturb people or destroy wildlife. For instance, if you pitch a tent overnight, take your garbage with you, or if you make a fire to cook food, pick a good and secure place and extinguish the fire before you leave.
Swedish Fika Time
Whether in their off time or at work, Swedes love their fika (drinking coffee), and the fika time often qualifies as a snack. Fika time happens several times per day. If you are in the city center, there are some lovely vintage coffee shops where you can get excellent coffee and snacks:
Follow @goinglobal
Tweet to @goinglobal
Information on employment outlook for more countries can be found by logging into your GoinGlobal account!
Don't have an account? Sign up for a free online demo to learn how you can utilize GoinGlobal's employment resources.