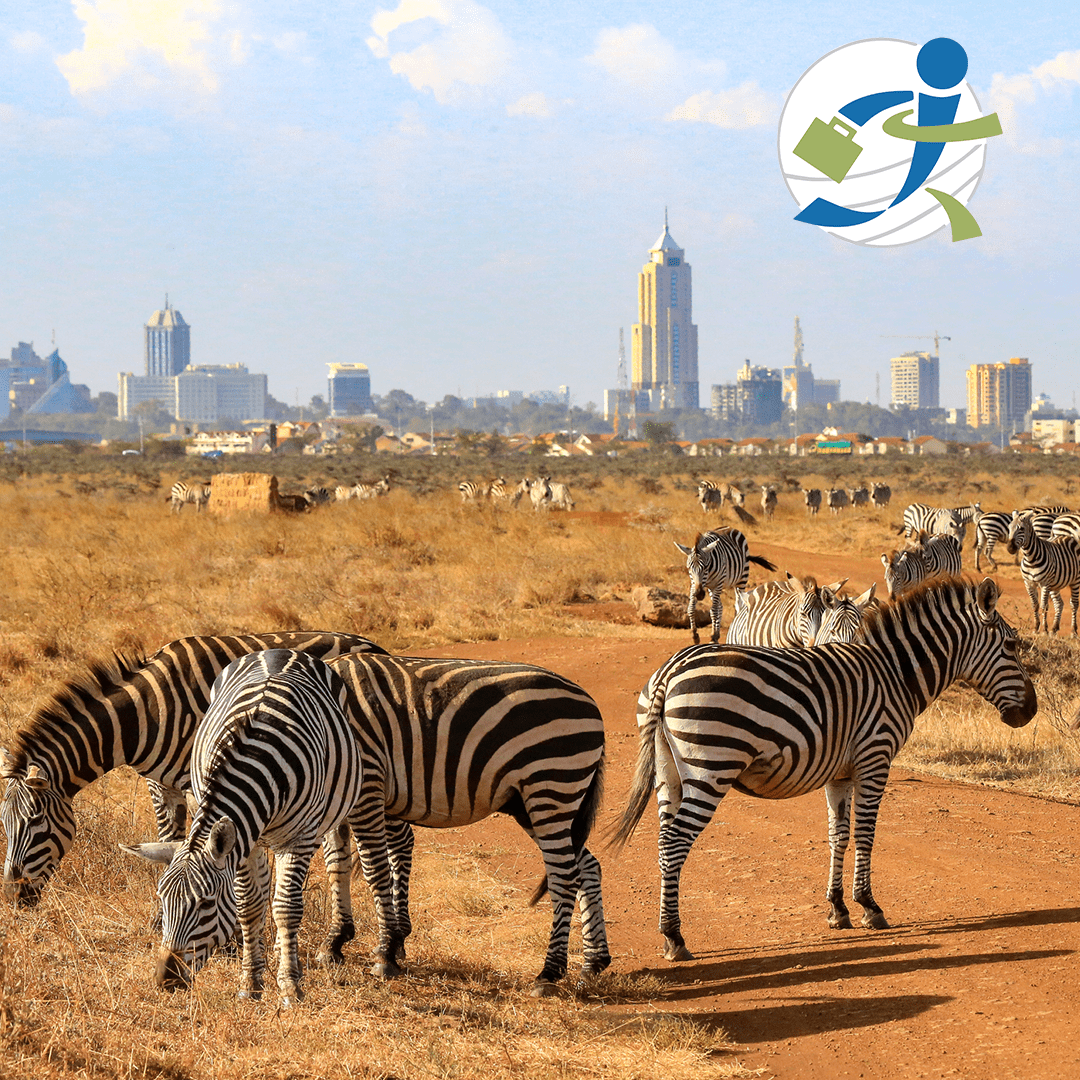 The Republic of Kenya straddles the equator and borders Uganda, South Sudan, Ethiopia, Somalia, and Tanzania. Nairobi is the capital and East Africa's most populous city. Other major cities include Mombasa, Nakuru, Eldoret, and Kisumu. The country takes its name from Mount Kenya at its center. It is Africa's second-highest mountain after Mount Kilimanjaro, which is located on the border between Kenya and Tanzania.
More than 40 million people live in Kenya. It is a young country demographically. About 43% of the population is under the age of 15 and nearly 70% are under the age of 35. Kenya celebrated 50 years of independence in 2013.
The country has East Africa's most developed economy, and it is a relatively affluent nation. It was recently reclassified as a middle-income country, although this has little meaning for the poor segment of the population. It is the technology, communications and business hub for East Africa, and also the main transport hub to other countries in the region. The country is branding itself the 'Silicon Valley' of eastern Africa. There are many well-educated, multilingual professionals here and a strong entrepreneurial spirit prevails.
What's New
Nairobi is developing at an amazing pace. New hotels and office and apartment buildings are being constructed in all major neighborhoods. Investment firms from the region and elsewhere seem to emerge almost daily. Upscale shopping centers, restaurants, and entertainment establishments are mushrooming. Nairobi is a truly urban environment, and almost everything one could want is available, including good – but expensive – international schools.
A new constitution was adopted in 2010, and it includes new rules and designations regarding women, work and residence permits, and the statutory delegation of authority from the central government to counties. New rules are being introduced gradually and enforced unevenly. It is important to be aware of the latest rules, regulations, taxes, and fines. Not knowing is not an acceptable excuse.
The People
To do well here, you need to understand and respect the country's cultural and religious diversity. The population is a multicultural mix of black indigenous Kenyans, Europeans, Asians, and Arabs. There are 42 ethnic groups in Kenya, and they fall into three major linguistic groups: the Bantu, the Nilotes and the Cushites. The Bantu form 70% of Kenya's population, with the Agikuyu Bantu tribe being Kenya's largest ethnic group. Of the Nilotes, perhaps the Maasai are the most well known. The Kalenjin, meanwhile, are known for their long-distance runners. The Cushitic people are nomadic pastoralists who maintain close links with neighboring Ethiopia and Somalia.
Kenya's Asians are mostly Indian, descendants of 19th-century laborers of the Kenya-Uganda railway, and they are among Kenya's most successful businesspeople. Kenyan Arabs and other Middle Easterners are descendants of the Yemeni, Omani and Persian traders of pre-colonial times (the Swahili people are descendants of Arab-Bantu intermarriage). Finally, Kenyan Europeans are mainly British in origin who adopted Kenyan citizenship after Kenya declared independence in 1963. There is also a substantial population of foreign nationals who work for embassies, bilateral and multilateral development organizations, the media, non-governmental organizations and specialized agencies of the United Nations, such as the United Nations Environment Program (UNEP), the United Nations High Commission for Refugees (UNHCR), the United Nations Office at Nairobi, the private sector and others. In many cases, the regional or African offices of organizations are located in Nairobi.
What Matters
The country's constitution guarantees religious freedom. There is a Christian (Protestant and Catholic) majority, but also a sizeable Sunni Muslim population. There also are practitioners of indigenous religions, such as Animism and ancestor worship. Some Christians and Muslims have incorporated African traditional practices into their religion. Kenya is a highly social collective society, so extended family, the local community and having a large group of friends all are central to society. Family has priority above all things. Often, several generations live together and care for one another in one home, especially in rural areas. Absenteeism or delays in work are frequent because of family obligations, even toward distant family members; this is viewed as completely acceptable and expected behavior.
The Conflicts
Although this multicultural society is a rich resource, it also is a source of conflict. Tribalism is strong here and many identify with their ethnic group or tribe to the point of putting group membership ahead of being Kenyan – a situation that sometimes leads to inter-ethnic tensions or violence. Other challenges include high unemployment, poverty (according to a recent estimate, more than 43% of people live below the poverty line), corruption, insecurity, and drought.
What's Cooking
 The cuisine reflects the country's multicultural society and uses a variety of fresh ingredients, seasoning and cooking methods. Indian, Arab, European and Pakistani cuisine are influential. High-quality fruit, vegetables, fish and meat are readily available in urban areas. Much of the cuisine is vegetarian-friendly, with Indian, Pakistani and other Asian sub-continental fare available across the country.
Common ingredients include kale, spinach, cabbage, tomatoes, beans, potatoes, avocados, beef, goat, rice, cornmeal, and wheat and millet flour. On the coast and near Lake Victoria, fresh fish is plentiful. It also is available in the cities, but it can be expensive. Kenyans from some parts of the country generally do not like fish. Chicken is a delicacy and is expensive. Fruits such as mango, oranges, pineapple, banana, papaw (papaya) and watermelon are popular. Tea is quite popular, almost always with milk and sugar. Many people also drink coffee, especially those who live in urban areas. Tusker is a popular beer.
There are generally only two meals per day, lunch and dinner. Tea is taken at around 10 am and 4 pm. Dining etiquette varies depending upon the ethnicity, location and socio-economic status of your host; generally, it is formal. The best practice is to follow the lead of your host.
It is acceptable to eat certain foods with your hands. Most people also use forks, knives, and spoons. Diners are expected to have washed their hands before eating; sometimes a washbasin will be brought to the table for this purpose. Hold your hands over the basin while water is poured over them.
How to Have Fun
You will be spoiled for choice, with seemingly unlimited opportunities for recreation. People enjoy sports, music, dining out, nightclubs, art exhibitions, craft fairs, movies, plays, safaris, and memberships in gyms, cultural organizations or social clubs. There are four major local TV channels, and many international channels are available by subscription. There also are several local radio stations with music and talk, as well as BBC radio. Interests, budget and time are the only limiting factors. The coast also offers many recreational opportunities.
Here are a few general tips to make your time in Kenya the best it can be:
Dress is typically conservative. Kenyans like to dress up for special occasions, such as going out dancing, to dinner or to church, and they rarely wear shorts.
Kenyans perceive swearing and displaying anger as indicative of a poor upbringing and a weak character.
Shouting is considered insulting — you should never shout at anyone for any reason, even if the message is positive.
Pointing is considered very rude in Kenya.
The left hand is reserved for restroom tasks and the right hand for eating, touching or passing objects.
Usually, Kenyans do not point with a finger but will instead use the chin or lips.
Winking may be perceived as lewd.
When greeting a Kenyan, if your hands are dirty, grab the other person's elbow.
Exchange money by handing it with a cupped right hand with the left hand resting on the right arm, just behind the right hand, which signifies an honest exchange involving no trickery.
When entering a Kenyan's home, you should take off your shoes and accept an offer of tea, as this means that one accepts the host's hospitality.
Kenya's currency, the shilling (Ksh or KES), is sometimes referred to as a 'bob,' the old English term for a shilling coin.
Tipping is not mandatory in Kenya, though tour guides, safari drivers and cooks will expect a tip at the end of a tour. It has become the norm to tip at restaurants. The amount of the tip is based upon your service. You should tip porters in hotels, as well. Lodges generally have a tip box; these tips are shared equally among all staff, including those who do not have direct contact with guests.
Taxi fares are negotiated in advance. Only give a tip if the service has been better than expected.
Follow @goinglobal
Tweet to @goinglobal
Information on employment outlook for more countries can be found by logging into your GoinGlobal account!
Don't have an account? Sign up for a free online demo to learn how you can utilize GoinGlobal's employment resources.