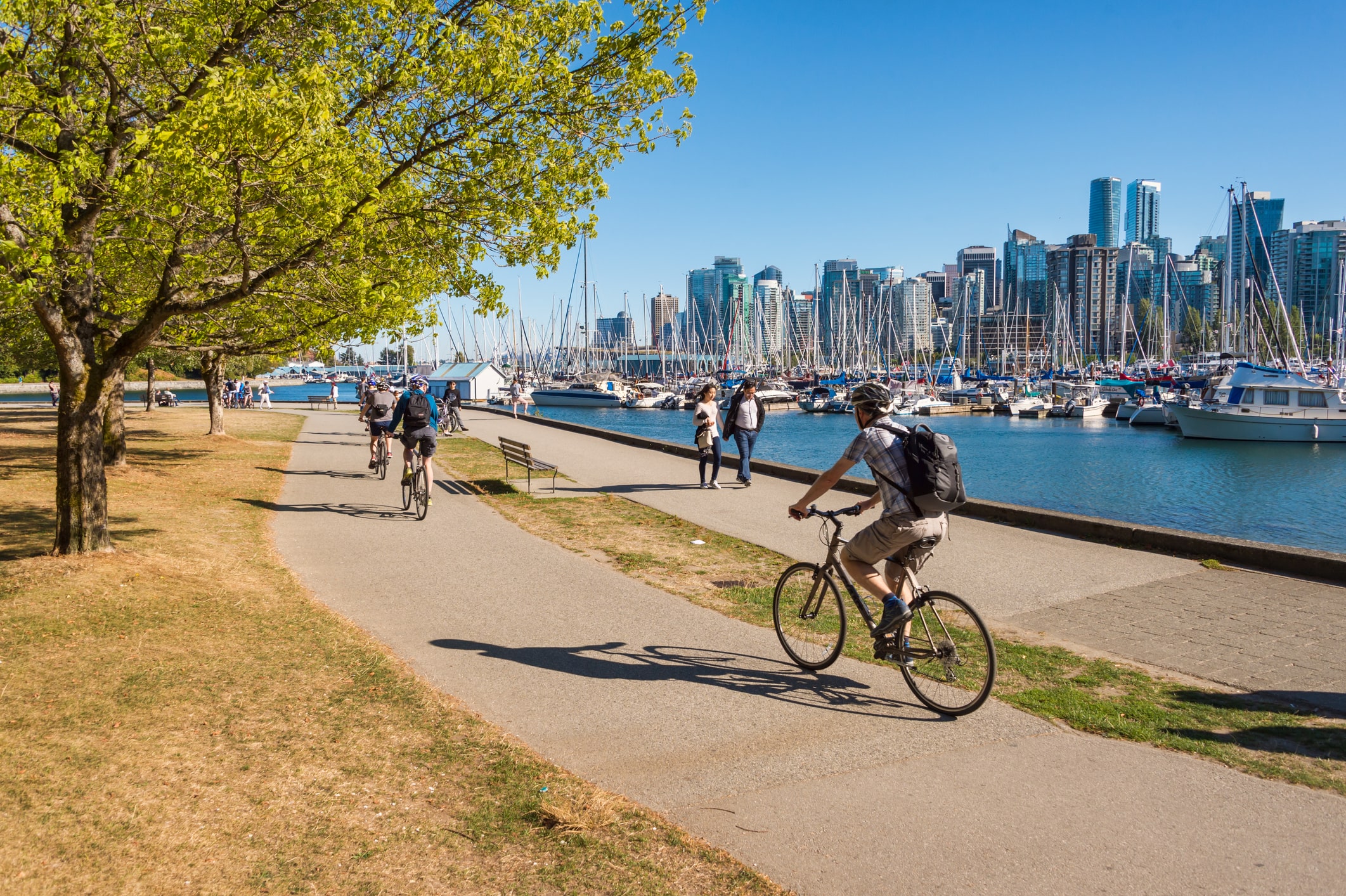 Vancouver, located in British Columbia (BC), is Canada's most expensive city. The latest Worldwide Cost of Living Survey by consulting firm Mercer ranks Vancouver ahead of Toronto, Montreal, Calgary and Ottawa. On a global scale, however, Vancouver's cost of living is less than in many other major metros. While the Mercer survey ranks Zurich fifth, Beijing eighth, New York City ninth, London 23rd and Paris 47th, Vancouver is ranked the 112th most expensive city in the world out of 209 cities.
British Columbia offers a cost of living calculator (English) for the province, but also for Metro Vancouver, its neighborhoods and suburbs.
Incomes
The median total income of individuals in the Vancouver region is 35,700 CAD, according to the latest statistics. This is just slightly higher than the national median of 35,000 CAD and the median individual income in British Columbia – 35,400 CAD. However, incomes differ greatly within the region. The latest census records major disparities among Vancouver's municipalities – from median household incomes of around 125,000 CAD or more in the municipalities of Belcarra, Anmore and Lion's Bay to around 60,000 CAD in Langley City and White Rock. In fact, metro Vancouver has the third-highest rate of income inequality in the country, according to a recent report by the Chartered Professional Accountants of Canada.
British Columbia's general minimum wage is 13.85 CAD per hour. Ultimately, it will reach 15.20 CAD per hour by 2021. In contrast, the Canadian Centre for Policy Alternatives calculates Metro Vancouver's living wage at 19.50 CAD per hour (for a family of four with two full-time working parents), or 35,490 CAD annually for each parent.  
Expenses
Consumer prices in Vancouver have climbed by 2% over the past year. And while costs for fuel oil fell by 4.4%, prices rose for nearly everything else. Food prices increased by 3.6%, and housing by 2.4%. After housing, childcare is a family's second-largest expense.
Major Monthly Expenses* in Metro Vancouver (CAD)
 

Category

Amount

Food

882

Clothing and footwear

156

Shelter and telecommunications (three-bedroom apartment, utilities, internet, two basic cell phone plans, home insurance)

2,021

Transportation

544

Childcare (for two children)

1,401

Medical Services Plan (MSP) premiums

75

Basic extended health care

151

Parents' continuing education (two college courses per year)

97

Emergency fund

228

Other (including personal care, household supplies, laundry, school supplies and fees, bank fees, sports, minimal recreation)

782
Source: Canadian Centre for Policy Alternatives
*For a family of four 
Groceries constitute about 14% of a family's budget, according to the Canadian Centre for Policy Alternatives. The following table lists some other typical costs in more detail.
Transportation
Owning a vehicle is not necessary in Vancouver. More than 18% of the population takes public transportation to work. TransLink (English) operates Metro Vancouver's public transportation network, which includes buses, ferries (SeaBus), regional trains (West Coast Express) and an automated light rapid transit system (SkyTrain).
Fares have gone up this year to fund several major transit expansion projects. The cost for a single fare in Zone 1 is 3 CAD, while a monthly Zone 1 pass costs 98 CAD. Students in Vancouver are eligible for the U-Pass, which provides reduced fares.
Vehicles in BC must be covered, at a minimum, by basic Autoplan insurance, which you must purchase from the Insurance Corporation of BC or ICBC (English, three more languages). Additional coverage can be purchased from the ICBC or other insurance providers. If you had no insurance claims prior to moving to BC, you may request a discount on the Autoplan insurance provided you have a notarized letter stating this in English from your current insurance provider. You must present this letter when buying Autoplan. British Columbia has the highest insurance rates in the country, with an average annual auto insurance premium of about 1,832 CAD.
Housing
Housing will be, by far, the largest chunk of your budget. The BC Newcomers' Guide provides detailed information on settling in the province, including in-depth information on housing options. The guide is available in 11 languages.
The city of Vancouver's Newcomer's Guide to Vancouver (English) also provides detailed information on settling in the city. Vancouver is divided into 23 neighborhoods – or districts. The website of the City of Vancouver provided detailed information about each one.
Renting
Vancouver has one of the most expensive rental markets in Canada. The average rent for all property types is 2,289 CAD per month. More than 20% of BC renters spend 50% or more of their salaries every month on rent-related expenses. Vancouver rents are projected to rise by 7% this year.
The following are average rental rates for various types of rental housing.
Average Monthly Rental Rates
Studio – 1,850 CAD
One-bedroom apartment – 2,372 CAD
Two-bedroom condominium – 3,236 CAD
Two-bedroom townhouse – 3,449 CAD
Three-bedroom house – 3,562 CAD
Source: RentBoard Canada

Competition for apartments remains fierce. It is recommended that you bring the equivalent of one month's rent to an apartment showing to secure a place on the spot. The BC Residential Tenancy Act (English) website provides information on tenancy laws and tips for those looking to rent in Vancouver.
To find an apartment, check out the following:
Although the metro area has a vacancy rate of under 1%, that may be changing soon. Robust apartment and condo construction could soon introduce 28,700 new condo units and 9,000 rental apartments into the market.  
Buying
Vancouver house prices have actually dropped by 10% over the past year. However, real estate firm CBRE still ranks Vancouver the fourth most expensive housing market in the world behind Hong Kong, Singapore and Shanghai.
Average Sale Prices

Detached home – Three bedrooms: 1.5 million CAD
Detached home – Two bedrooms: 1.2 million CAD
Townhouse – Two bedroom: 1.3 million CAD
Townhouse – One bedroom: 652,000 CAD
Condominium – Studio: 480,000 CAD
Condominium – Three bedrooms: 1.5 million CAD
Source: Zolo Realty
Homes in Vancouver's outer suburbs are less expensive than those in the city proper. For example, homes in White Rock and Tsawwassen are nearly half the cost of those in the city of Vancouver.
In an attempt to stabilize the housing market, British Columbia has introduced a new Non-Resident Speculation Tax for foreign buyers. The tax applies to properties purchased in Metro Vancouver, as well as in the Capital Regional District (excluding the Gulf Islands Salt Spring Island and Juan de Fuca),   Kelowna and West Kelowna, Nanaimo-Lantzville, Abbotsford, Chilliwack and Mission. For more information, visit the BC government website.
Property Transfer Tax (PTT) must be paid on purchased property in British Columbia at the rates of 1% on the first 200,000 CAD; 2% for up to 2 million CAD; and 3% for properties up to 3 million CAD with an additional 2% on the amount of residential properties greater than 3 million CAD. Qualifying first-time homebuyers may be exempt from paying PTT if the price of the home is below 475,000 CAD. The City of Vancouver's website provides information on residential property tax rates.
Follow @goinglobal Tweet to @goinglobal
Information on the employment outlook for more countries can be found by
logging into your GoinGlobal account
, as long as your institution has a GoinGlobal subscription. Check with your career center to see if your school provides access to GoinGlobal.