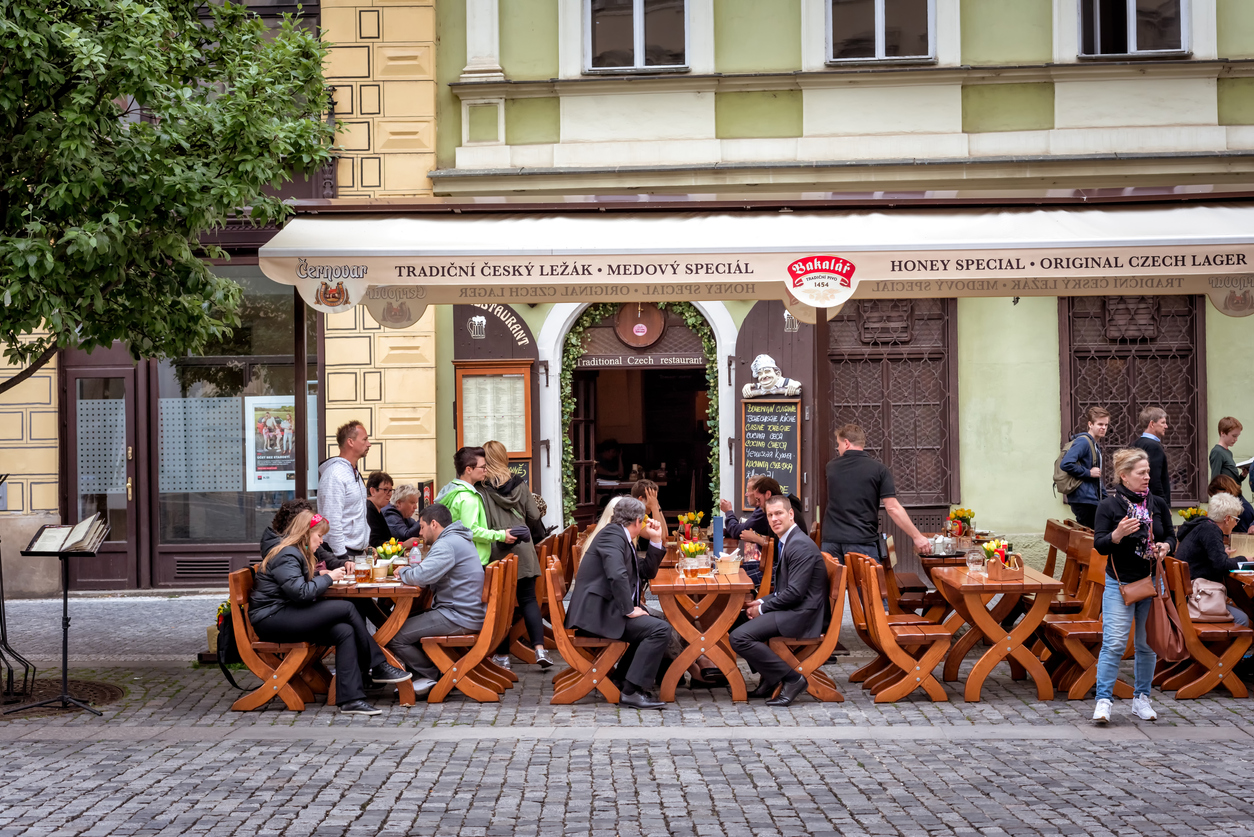 The Czech Republic informally referred to as Czechia since 2016, is a landlocked country located in Central Europe, bordered by Germany, Poland, Slovakia, and Austria. It has a population of 10.6 million, the majority of whom are ethnic Czechs. Prague (Praha) is the nation's capital. Brno, Ostrava, and Plzeň are the next three largest cities after Prague.
Although part of the European Union since May 2004, the local currency remains the Czech crown (Česká Koruna, CZK). Beside local currency, the euro is sometimes accepted in large cities and towns as a secondary currency. Although credit cards are accepted, it is recommended to exchange currency beforehand if traveling outside of large towns and cities.
The country has a rich folkloric culture, including a love of music and exuberant Easter and Christmas celebration. Having experienced a turbulent history, today the country is considered the most prosperous in Central and Eastern Europe.
Not only is the Czech Republic a popular tourist destination, but it is also home to many foreign nationals. If you plan to visit or move to the country, here are some basic tips to help you live like a local:
When entering a shop, café or pub, say good day (dobrý den) and goodbye (na shledanou) when leaving.
It is generally considered polite to hold the door for women and the elderly.
It is common to tip at restaurants, bars, and coffee shops; you decide how much you want to leave, but usually, it's around 10%. If you weren't satisfied with the service, however, you are not obliged to leave a tip. If paying in cash, give the tip directly to the server. For example, if the dinner price is 480 CZK, round up to 500 and tell the server that no change is needed. It is not customary to leave the tip on the table.
Many restaurants may bring bread or pretzels to your table; if you eat them, you will be charged. Bread is usually at a nominal cost, but pretzels can be pricey.
When invited to someone's home, bring a small gift such as chocolates or a bottle of wine or flowers (but not carnations; they are linked with the former Communist regime, especially the red ones). Remove your shoes at the entrance; in some households, you will be offered slippers. The majority of Czechs wear slippers at home; it is considered unusual to walk barefoot or only in socks at home.
It is not usual to engage strangers in conversation. An exception is some retirees who don't have much daily human interaction and are looking for opportunities to chat with anyone who is willing to listen. They can be very charming and will approach you in a non-intrusive way, but back down quickly if you are not interested in listening.
Do not chew gum when speaking with another person, cough or yawn without covering your mouth, spit in public or litter.
Generally, it is considered impolite to refuse an offer of food unless you have a good reason.
Many public restrooms require a nominal fee. Some cafés (e.g. Starbucks) and restaurants (including some McDonalds' restaurants) will have restrooms for paying customers only. Their restrooms usually have a door with the keypad and a code will be displayed on the bottom of the receipt. Department stores and malls have restrooms free of charge.
Public transportation is vast in large cities. The Prague metro runs from 5 am to midnight, and some buses run all night long. Ticket machines on buses, the metro and trams timestamp tickets; it is important to familiarize yourself with how the ticket system works. The cost of a ticket is based on zones and the amount of time spent in transit. The prices for tickets are reasonable. Government ticket controllers move randomly among public transportation lines and collect steep fees from anyone who does not have a valid ticket.
Taxis are expensive and often overcharge foreigners, especially taxis in large cities. Small-town taxi drivers are slightly more honest. Always ask how much it would cost to get from point A to B, check the rate per kilometer, and make sure that their meter is actually running. If ordering a taxi over the phone, always ask for a price estimate. It is not recommended to take unregistered cabs.
Another alternative to public transportation and taxies is Uber. Uber POP and Uber Select are available in Prague.
Follow @goinglobal
Tweet to @goinglobal
Information on employment outlook for more countries can be found by logging into your GoinGlobal account!
Don't have an account? Sign up for a free online demo to learn how you can utilize GoinGlobal's employment resources.