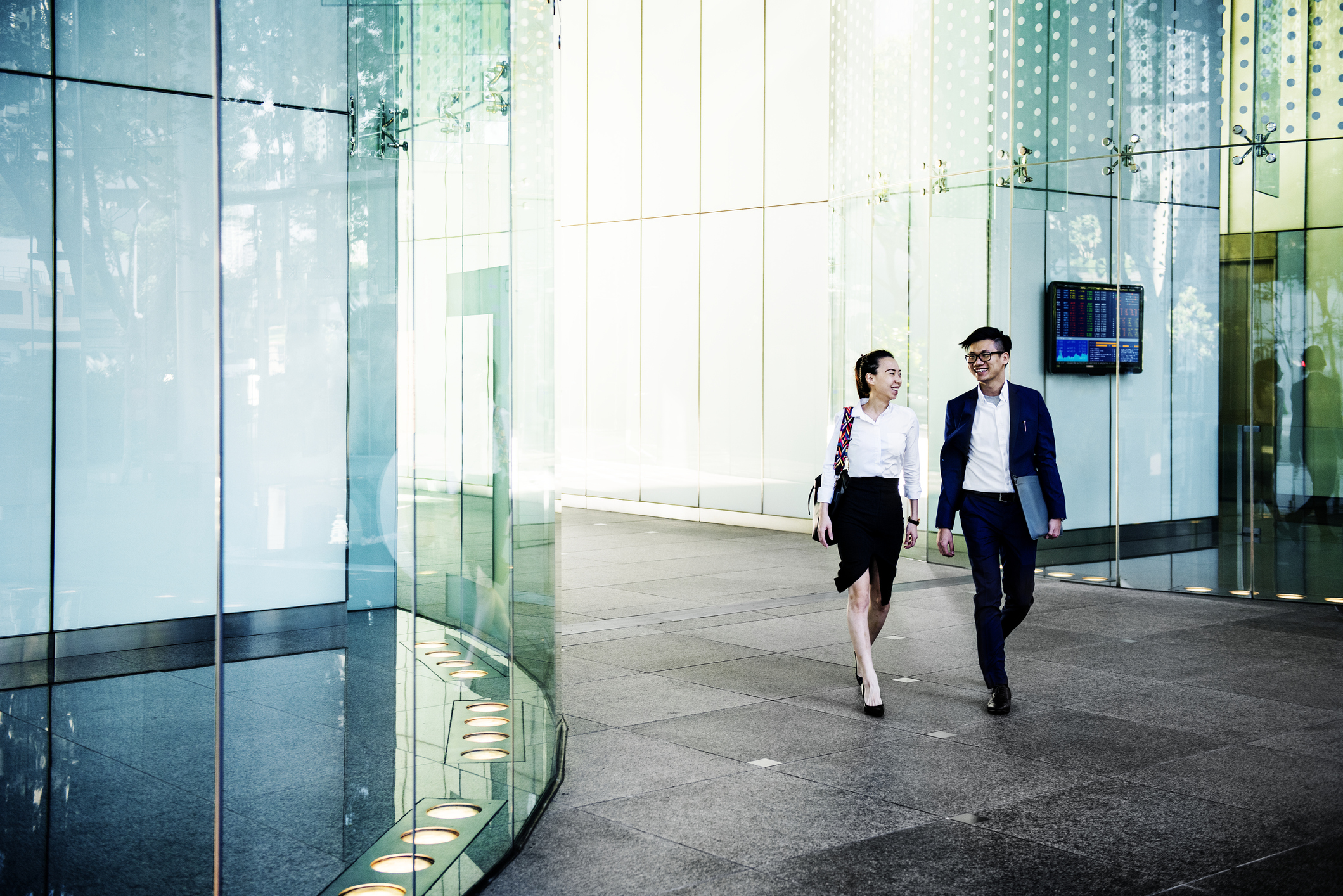 Singapore is a unique setting that offers a high quality of life, many attractions and a fascinating cultural experience. It is a popular destination for not only tourists but those of you looking for a life-changing work experience that can also enhance your career. If you are lucky enough to get an interview with a Singaporean company, it is an opportunity not to be wasted. Knowing just a few key things can set you apart from the masses. In short, when interviewing for a job in Singapore, you need to be prepared, punctual, and confident yet humble. If you can successfully do these things, you have a shot at that dream job. Here's some more in-depth help to get you ready for that all-important interview:
Pre-Interview Prep:
Do your homework
 An interviewer in Singapore will expect you to have basic knowledge of the company and the position for which you are applying. You should research the company history, read up on its news and understand its business units and the roles of the position you seek. It is especially important to know as much as possible about the position because it is likely you will have to answer tough questions about how you can add value to the company's business. It is common for the company to request that you take aptitude and personality tests before you reach the interview round. Take cues from these tests to find out more about for the company's expectations for the position.
Consult the Internet
Take advantage of any resources you can find. For example, the website Glassdoor.com allows users to post comments about their personal experiences with company-specific job interviews, so the site is a potential source for typical interview questions for the job for which you are applying. The site also posts employees' reviews and salary information that may be helpful when you are discussing or negotiating your salary.
Formulate questions 
Your pre-interview preparations should include formulating questions to ask your interviewer. Applicants who are able to show they have done this research demonstrate the initiative employers are seeking. Doing so also will help establish a good relationship with the interviewer, which will demonstrate an ability to form successful working relationships with colleagues in the future.
You should remember that when an interviewer asks questions, he or she is looking for cues about how you conduct yourself — whether you are comfortable with yourself, and how interested you are in the position. Some hiring managers are now focusing more on behavioral questions, such as how you responded to problems in a previous work setting, so be sure to think of any such examples when formulating your list of potential questions. Your ultimate goal is to show up for your interview well-rehearsed and able to project your personality.
Identify how you can stand out 
Applicants who show how they can add value to the organization reveal to the employer they are serious about the position and are ready to assume responsibilities. Companies based in Singapore have quotas on how many foreign employees they can hire, and the process of applying for proper visa documents for new foreign employees can be complicated. For these reasons, employers put a high priority on hiring foreign candidates who possess hard and soft skills that they cannot find in local candidates. As much as seems suitable, you should emphasize any unique qualities, skills and experiences you possess. Employers are, in general, interested in candidates who can fit into the company's culture, display tenacity and have the ability to handle conflicts and solve problems.
Manage your online presence 
Employers will check your profiles on social networking sites, such as LinkedIn and Facebook. From an employer's point of view, someone who emphasizes partying on a social networking site is not focused on jobs, and those who post complaints about work or colleagues are less-desirable candidates. If you have any content — including photographs — that conceivably could present a negative view of your character or fitness for a job, you should probably eliminate them from your profiles.
The Interview
Be punctual
The first thing you can do to make a good impression in a Singaporean interview is arrive on time — early, actually. Allow an extra 15 minutes to get into the building, up the elevator, and to the appropriate office. You also may be asked to complete some preliminary forms.
Check your appearance
Appearance is very important in Singapore. It is essential to appear clean and well-groomed; dressing conservatively is recommended. It is appropriate for men to wear a long-sleeved shirt, a tie and dark pants to an interview. Men wear suits only when applying for very high-level positions, such as that of a CEO, or when addressing a formal conference. As for women, it is appropriate to wear a suit or a dress to interviews. It also is acceptable to wear a long-sleeved shirt and pants. Footwear should be closed-toe shoes or pumps. Keep in mind that your attire reflects some of your character traits, including neatness and organization. A good rule of thumb would be to dress a little nicer than what would be appropriate for the open position.
Maintain a confident air
Smile, greet and shake hands with the interviewer at the beginning of the meeting. A slight bow or nod will show great respect for the other person. Use both hands to offer anything to the interviewer, such as a business card or supporting documents for the job application. You should appear calm, confident and well-prepared for the interview.
When leaving an interview, it is appropriate to shake hands again. It is not necessary to bow on the way out, but do close the door as you exit the room.
The Process
If you live overseas, it is common to start the interview process over the phone or through an online videoconference service, such as Skype. If the Singaporean company remains interested after the preliminary interview, it may fly you in for an in-person interview, paying for airfare as well as accommodations. Note, however, that unless they are hiring for a senior position or explicitly looking for certain nationalities, companies prefer candidates who already are in Singapore.
The Language
Although four languages are spoken in Singapore — English, Mandarin Chinese, Malay, and Tamil — job interviews usually are conducted in English. In very rare cases, however, a job interview may be conducted in Chinese, especially if the position is with a family-run business with traditional Chinese backgrounds.
The Format
It is not uncommon for interviews to be conducted in groups, but group interviews are more typically found in recruitment exercises by major multinational firms. Management-level interviews usually are conducted one-on-one.
Your interviewer may ask questions about your well-being or your background or may want to discuss your activities or any mutual acquaintances. It is entirely appropriate to remain silent for a few moments before responding to a question. If you are unsure of the question, it is acceptable to ask for clarification.
As stated earlier, many companies in Singapore are slowly moving away from the traditional-style interview and toward behavioral questions. Through this type of interview, employers are looking at your experiences to assess your ability to handle situations. Such questions are likely to focus on specific problems you have faced, and what you did to resolve the matter. The issues may include such things as how you handled projects or what you did to correct a mistake. It is not uncommon for the interview to start with a hands-on practice test for you to grasp the kind of work you would be doing and for the interviewer to assess your technical aptitude.
The Singaporean approach
Remain humble, but offer good insights regarding your abilities, strengths, and weaknesses. If you have any accolades or statistics to back up your claim, present them proudly. Singaporeans love proven results, and trophies are the hallmark of personal success. However, Singaporean interviewers are interested in applicants who can demonstrate their character, rather than just use up their talking time to list achievements. Make sure you exercise everything in moderation. Foreigners in Singapore sometimes are regarded as boastful because of their individualistic character. Singaporeans place a priority on interpersonal relationships and cultural fit, and recruiters will be less likely to hire someone who they think will not fit in.
It is essential to show that you can work independently while prioritizing the harmony of the workplace. It also is important to demonstrate openness toward the many different cultures in Singapore's job market. While ethnic Chinese make up the majority of the population, there are significant numbers of Indians and Malays, as well as people who have come from countries around the globe.
Post Interview
After the interview, it is a good idea to send a follow-up email or a thank you note to your interviewer. Although it may or may not improve your chances of acceptance, it is a good gesture that is in line with Singaporean culture–showing respect for a superior. This could be what sets you apart from the other candidates.
The email or letter should be short and humble. Mention the interview and, most importantly, thank the interviewer for spending time with you. A few lines to show your appreciation are more than enough. Do not inquire about the progress of the application, as this could be regarded as you being pushy, intrusive or desperate. If you are sending your note by post (mail), use high-quality paper and a professional design. It is best to carefully write your letter by hand; this emphasizes commitment and consideration. Send the letter so that it arrives shortly after the interview, which will help keep the impression of your meeting fresh in the interviewer's mind.
If writing an email, one short message is enough. "Spamming" the employer's mailbox or cold calling will make you appear rude. If the company does not contact you after a follow-up email/letter is sent, this can be taken as a sign of refusal. In general, the company will only contact short-listed candidates.
Follow @goinglobal
Tweet to @goinglobal
Information on employment outlook for more countries can be found by logging into your GoinGlobal account!
Don't have an account? Sign up for a free online demo to learn how you can utilize GoinGlobal's employment resources.