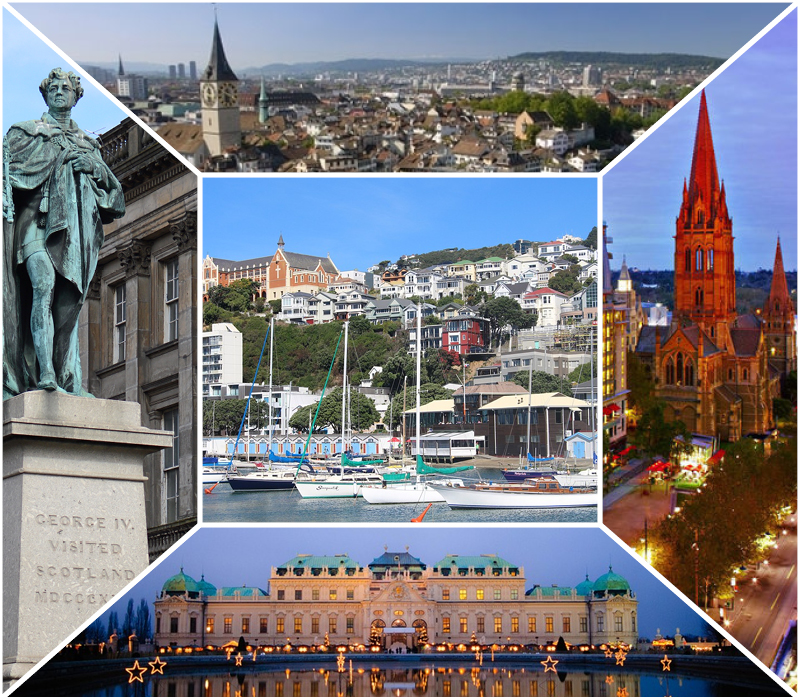 Moving abroad is no small thing. It takes much study and consideration. Can I get a good job? Will the city's culture be a good fit for my lifestyle? What if I get sick? Is it too expensive for me? These are typical and necessary questions to answer for anyone considering a move to a new country. Most studies that chart and rank the world's best cities look at those elements – cost of living, climate, pollution, safety and health care, among other factors. Recently, Deutsche Bank ranked the quality of life in 47 cities around the world. Their findings remain consistent with others, showing cities in the northern hemisphere in developed western economies tend to rank high. But, there are some surprising cities that make the list that are worth a look when deciding if a relocation is in your future. Here are five highly ranked cities that deserve some investigation:
Zurich, Switzerland — Expensive Switzerland is clean, and almost crime and pollution free. Its reputation precedes it for good reason. Zurich may be the best of Switzerland, at least according to surveys. Zurich almost always comes out in the top five of best cities.
Melbourne, Australia — Australia's second-largest city has offers a great quality of life, according to Deutsche Bank. Melbourne has the third-highest purchasing power of any city on the list, as well as top ten scores in health care, property price to income ratio, and climate.
Vienna, Austria — The honor of highest-ranked city in a non-English speaking country goes to Austria's capital, thanks to the best health care of any city on the list, as well as being the sixth safest, in the Deutsche Bank survey.
Edinburgh, UK — Capital of Scotland, Edinburgh is among the more livable cities in the world. It offers little traffic, excellent health care, and low pollution. Overall, its quality of life is hard to beat according to multiple surveys.
Wellington, New Zealand — Officially the city with the world's highest quality of life, according to Deutsche Bank, New Zealand's capital has the least pollution of any city ranked, and finished in the top ten in four other categories. It is not an easy move for many foreign nationals, but once there, many choose to stay for a long, long time.
More information on interviewing in other countries can be found by logging into your GoinGlobal account!
Don't have an account? Sign up for a free online demo to learn how you can utilize GoinGlobal's employment resources.