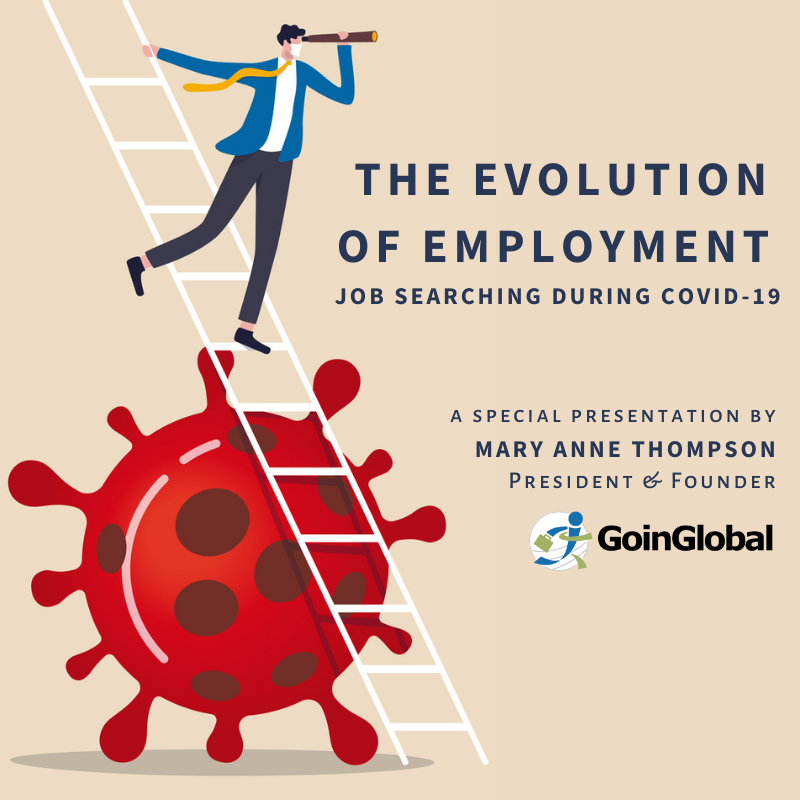 Join career expert and GoinGlobal founder Mary Anne Thompson as she explores proven strategies and tactics for helping job seekers achieve their career objectives in an employment market transformed by the Covid-19 Pandemic. 
During this informative, one hour presentation, Mary Anne will share insights gathered by her global team of in-country career experts and provide practical advice on how to:
Develop effective job search strategies 
Identify emerging employment and career trends
Ace the video interview
Leverage personal and professional networking resources
Find remote job and internships opportunities
Work from anywhere!
Don't Miss This Special Event
February Sessions:
February 16: 3:00pm GMT / 10:00am EST & 3:00pm EST / 12:00pm PST
February 18: 3:00pm GMT / 10:00am EST & 2:00pm EST / 11:00am PST

March Sessions:
March 25: 2:00pm EDT / 11am PDT & 4:00pm EDT / 1:00pm PDT
March 30: 3:00pm EDT / 12:00 PDT & 5:00pm EDT / 2:00pm PDT
May Sessions:
May 5: 2:00pm EDT / 11:00am PDT RSVP here.
* You must first authenticate to GoinGlobal from your school's access point for the link to work.