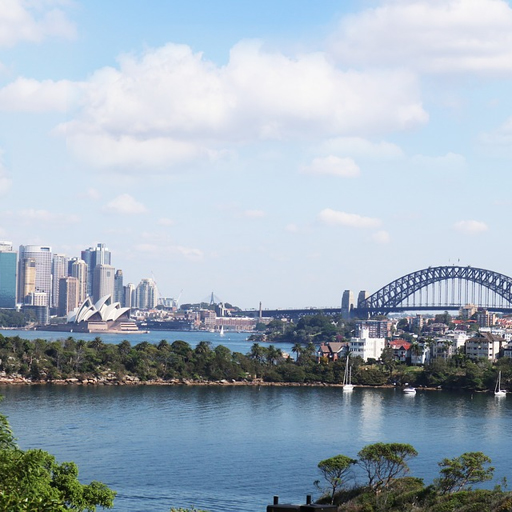 From the Gold Coast to the Outback to world-class cities like Sydney and Melbourne, Australia has a lot of diverse attractions and experiences to offer, making the continent a long-time favorite of world travelers, expats, and international students. The country occupies the world's largest island and has a population of more than 23 million. Currently, its economy is strong, and unemployment is lower than it's been in nearly five years at 5.4%, making it even more attractive to job hunters looking for a change. With job vacancies existing in most job sectors and growing talent shortages, there are opportunities for a wide variety of experienced professionals and younger workers who want to try Australia as a new home base.
By 2022, Victoria and New South Wales are expected to lead the country in employment growth, with a total growth rate of 9.8% across all industries. Bringing up the rear are South Australia and Northern Territory. Major metro areas like Sydney, Melbourne, Brisbane, and Perth are projected to see the largest increases in employment. These areas are home to leading growth industries and have seen rapid growth in population.
Here are the industries showing the most growth over the next four years:
| | |
| --- | --- |
| Leading Growth Industries to 2022 | Anticipated Growth (in %) |
| Health care and social assistance | 25.1 |
| Professional, scientific and technical services | 12.7 |
| Construction | 12.1 |
| Education and training | 11.6 |
| Accommodation and food services |   9.8 |
Source: Australian Government, Department of Jobs and Small Business
Within these high-growth industries, certain subsectors will experience the most robust growth:
Health care and social assistance: Allied health services, residential care services, medical services, and child care
Education and training: Adult education
Professional, scientific and technical services: computer-system design and related services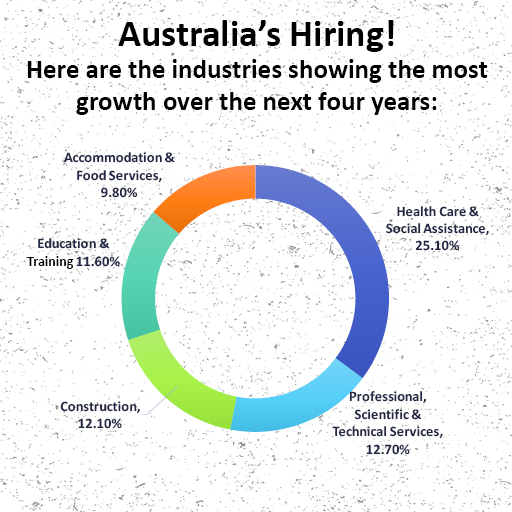 Approximately 38% of Australia's employers report talent shortages, which is just below the global average of 40%. Skilled trade vacancies continue to be the hardest to fill, largely because of a lack of available candidates, according to Manpower.
The Most Difficult to Fill Positions are:
Skilled trades
Engineers
Management/executive (management/corporate)
Sales representatives
IT personnel
Accounting and finance staff
Doctors and other non-nursing health professionals
Technicians
Secretaries, PAs, receptionists, administrative assistants, and office support staff
Drivers
Australia's Skill Shortage List, which posts the occupations Australian employers are having the most difficulty filling, contains the following occupations:
Arborists
Air conditioning and refrigeration mechanics
Automotive and engineering trades workers: automotive electricians, motor mechanics, sheet metal workers, metal machinists, locksmiths, panel beaters, vehicle painters
Architects
Chefs, bakers, pastry cooks
Civil engineers
Construction trades workers: bricklayers, stone masons, painters, glaziers, fibrous and solid plasterers, roof, wall and floor tillers, plumbers, cabinet makers
Hairdressers
Medical professionals: audiologists, optometrists, midwives, physiotherapists, radiographers, sonographers
IT professionals: web developers, analysts and programmer developers, IT security specialists
Solicitors
Veterinarians
Skills in Demand
Occupational Projections 2022
| | | |
| --- | --- | --- |
| Occupation | Number of new jobs ('000) | % job growth |
| Managers | 120 | 7.8 |
| Business, human resources, and marketing professionals | 58.8 | 8.7 |
| Accountants, auditors, etc. | 17.3 | 8.3 |
| Engineering professionals | 13.7 | 9.4 |
| Education professionals | 52.7 | 9.6 |
| Health professionals | 129.8 | 21.3 |
| IT professionals | 29.9 | 12.3 |
Source: Australian Government, Department of Jobs and Small Business

Soft skills: In today's jobs market, and to be ready for tomorrow's, successful candidates must possess not only technical skills but also:
Cultural intelligence
Adaptability
Curiosity
Customer focus
Eagerness to learn
Emotional intelligence
Salaries
The minimum wage in Australia was recently increased to 18.29 AUD per hour or 694.90 AUD for a 38-hour workweek, before taxes. Average earnings are a good deal higher than the minimum wage, at 1,544 AUD per week for full-time workers. Recent graduate median annual salaries are:
Undergraduate degree: 60,000 AUD
Post-graduate degree: 81,000 AUD
Post-graduate research graduates: 87,000 AUD
Medical professionals and judges earn the highest salaries in the country, although there is a striking gender gap in the medical field. Male neurosurgeons are the top earners, at 577,674 AUD per year; women neurosurgeons earn 323,682 AUD annually. Women judges earn 355,844 AUD a year, while male judges earn 381,323 AUD.
Follow @goinglobal
Tweet to @goinglobal
Information on employment outlook for more countries can be found by logging into your GoinGlobal account!
Don't have an account? Sign up for a free online demo to learn how you can utilize GoinGlobal's employment resources.