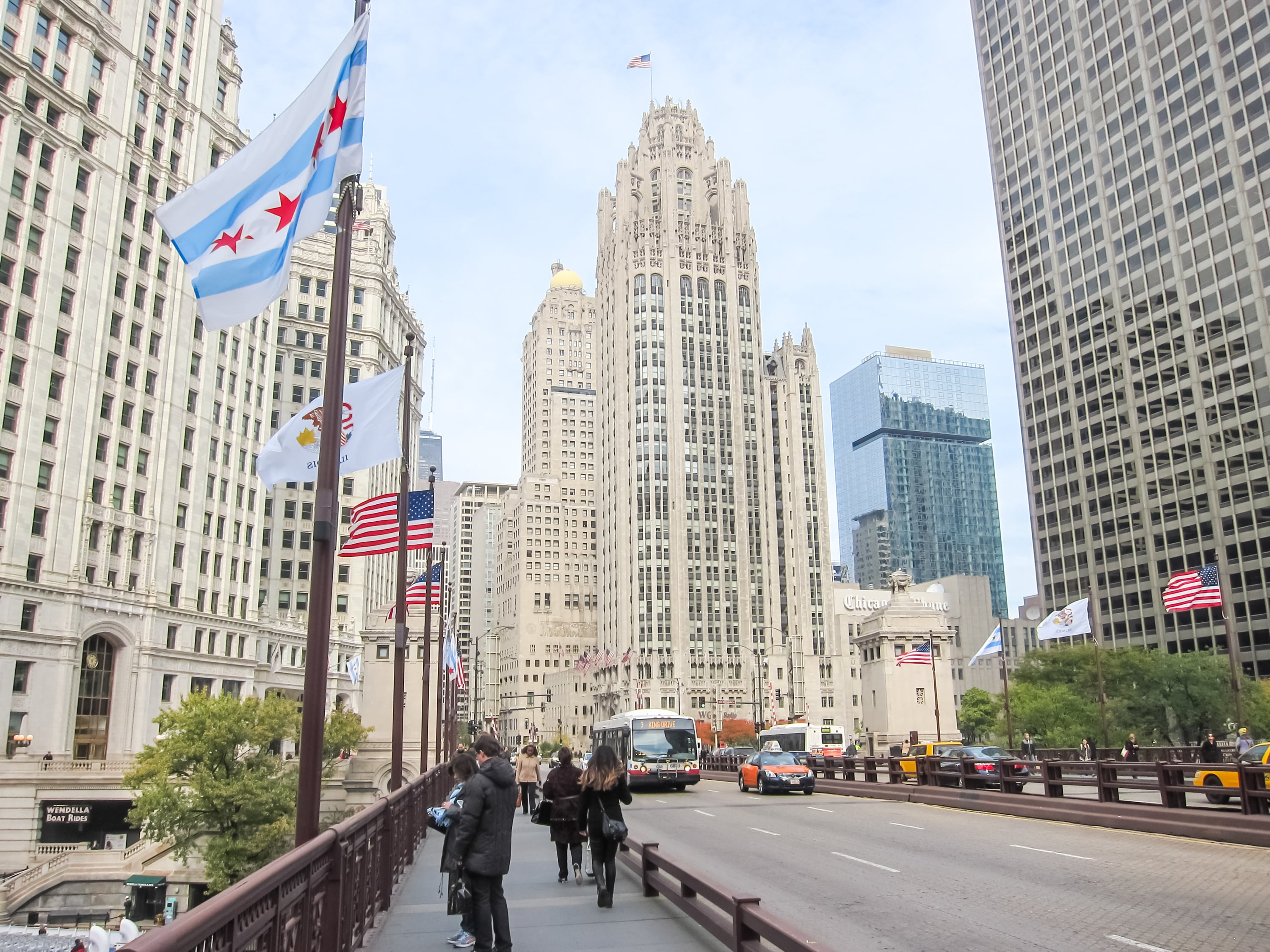 Chicago is the third-largest city in the US. From its beginnings as a small trading post at the mouth of the Chicago River to the international metropolis it is today, Chicago has long been characterized by its diverse and hardworking citizens. Sometimes referred to as "The City That Works," the varied and vibrant economy has maintained the city's status as America's Midwestern economic and cultural powerhouse.
The Windy City also sits in the middle of the nation's breadbasket, and it has the food processing industry to show for it. This is the home of Kraft Macaroni and Cheese, McDonald's Big Macs and Tootsie Rolls.
Chicago is also home to 27 Fortune 500 company headquarters, including:
Boeing
Archer Daniels Midland
United Continental Holdings
Exelon
LKQ
Conagra Brands
Jones Lang LaSalle
R. Donnelly & Sons
Motorola Solutions
Old Republic International
Areas of Job Promise
The metro area's current unemployment rate of 3.6% is lower than the 3.8% national average and significantly lower than the 11.8% unemployment rate the city experienced at the height of the recent recession. It is even faring better than Illinois' statewide unemployment rate of 4.3%.
Chicago's job market is expected to be steady in the short term, according to the Manpower Employment Outlook Survey.
Job prospects appear best in construction, non-durable goods manufacturing, wholesale and retail trade, information, financial activities, professional and business services, education and health services, leisure and hospitality, other services and government.
According to the Chicago Cook Workforce Partnership's latest quarterly survey of the online job boards in Chicago, based on the number of job postings, the industries with the most in-demand jobs are:
IT
Management
Sales
Health care
Office and administration
Business and financial
Transportation
Food
Manufacturing
Overall, Chicago's employment prospects seem to be improving. A recent report from the Federal Reserve Bank of Chicago forecasts slowly improving job growth for Chicago through next year.
Salaries
Chicago wages have risen by 3.5% over the last 12 months, according to the Bureau of Labor Statistics. That's a slightly higher increase than the national average of 2.9%. Chicago's average salary is 62,884 USD, compared with the nationwide average of 60,336 USD.
Some of the highest-paying jobs include architectural and engineering managers, who earn an average of 130,630 USD annually; petroleum engineers, who earn an average of 195,220 USD annually; financial managers, who earn an average of 140,490 USD annually; and computer and information systems managers, who earn an average annual salary of 139,750 USD.
Industry Trends:
Accounting and Finance
All combined, 268,400 people here hold financial jobs. The sector has grown by 6,700 employees in the last 12 months. The area's 2.2% growth outpaced the nationwide finance job growth of 1.4%.
The local finance sector is strengthened by its insurance agencies and brokerages, which are projected to experience growth in the coming decade. Additionally, Chicago's financial sector is among the top six most active sectors for hiring in Chicago, according to the latest quarterly survey of the online job boards in Chicago by the Chicago Cook Workforce Partnership.
Finance companies with the most openings currently include:
JP Morgan Chase
Accenture
Deloitte
US Bank
Bank of America
The top financial occupations posted on Chicago job boards were:
HR specialists
Management analysts
Market research analysts and marketing specialists
Accountants
Financial analysts and auditors
Business Management and Marketing
In Greater Chicago, approximately 855,011 are employed in business service jobs in more than 62,000 companies. The largest and fastest-growing subsectors include:
Employment services – 187,166 employees
Management of companies – 84,541 employees
Consulting services – 74,715 employees
Computer systems design – 73,324 employees
Major business services employers in Chicago include:
Deloitte – 4,339 employees
Mayer Brown – 3,431 employees
Aon Hewitt – 3,331 employees
KPMG – 2,126 employees
Leo Burnett – 1,842 employees
PwC – 1,750 employees
Ernst & Young – 1,500 employees
ADP – 1,500 employees
Forbes.com and Indeed.com recently ranked Chicago the eighth-best city for marketing jobs. Currently, Chicago has more than 10,000 full-time marketing jobs available. Many of these positions are entry level, but 51% are in the top two-fifths tier of wages.
Engineering
The Chicago metro region employs nearly 52,000 professionals in architectural and engineering occupations.
The city is home to three engineering schools:
Northwestern University
Illinois Institute of Technology
University of Illinois at Chicago
Chicago's construction sector is in the midst of another real estate building boom. The sector gained 7,600 jobs in the past year. Construction activity means job opportunities for engineers and architects, and Chicago has seen several large construction projects planned for the city. One of them is Vista Tower, a 95-story skyscraper that will be the city's third-largest building when completed in 2020. Another large construction project is the 2.1 billion USD Chicago Transit Authority's modernization of the red and purple lines of the city's rail system.
Food Processing
Chicago has long been the largest city in one of the world's most productive agricultural regions. For more than two centuries, Chicagoans have worked in grain mills, meat-packing plants, canning factories and dairies to convert raw farm products into edible goods.
Food processing companies including Dean Foods, Keebler, Kraft Foods, Libby, Nabisco, Sara Lee and Wrigley started here. This is the home of Ball Park Franks, Kraft Macaroni and Cheese, McDonald's Big Macs and Tootsie Pops. Archer Daniels Midland Co. and Kraft Heinz Co. rank in the top 15 on the latest Food Engineering Magazine list of the Top 100 food processors.
The local industry employs 130,000 workers in 4,500 food and beverage companies in the Chicago metro area.
Top Chicago employers in food processing include:
Kraft Heinz: 6,184 employees
PepsiCo: 3,483 employees
Mondelez: 2,000 employees
Nestle: 1,256 employees
Ingredion: 1,208 employees
Tootsie Roll: 1,020 employees
Kellogg's: 940 employees
ConAgra: 850 employees
Several food makers have moved their headquarters to the Chicago area recently, including:
Mars
Kraft Heinz
McDonald's
ADM
ConAgra
Hickory Farms
Health Care
Chicago's strong university presence lends itself to a cutting-edge medical research industry. There are 22 major teaching hospitals in Chicago and six medical schools, including:
Loyola University
Northwestern University
Rush University
The University of Chicago
Combined, health care and life sciences occupations employ more than 614,600 people in the Chicago metropolitan area.
The local health care field is growing, accounting for an estimated 12.2% of the region's total economic production. The area has more than 26,000 health-care related companies. Statewide, hospital spending and employment create an annual economic impact of nearly 89 billion USD.
Registered nurses are among the most in-demand jobs in the Chicago area. Other health care jobs in demand include:
Nurse practitioners
Nursing assistants
Medical records and health information technicians
Physical therapists
Speech language pathologists
Health care is the third-largest industry posting jobs in Chicago, according to a recent quarterly survey of online job boards by the Chicago Cook Workforce Partnership.
In a report covering the Chicago-Cook County region for the period from 2016 to 2026, the Illinois Department of Employment Security predicts health care support positions will increase by 12.5%, and health care practitioner positions by 10%.
The top health care employers in Chicago include:
Advocate Health and Hospitals: 22,000 employees
Presence Health: 10,987 employees
Walgreens: 9,484 employees
Northshore University Health Systems: 9,464 employees
Abbott Laboratories: 7,977 employees
Northwestern Memorial Hospital:  7,586 employees
Health Service Care Corp (BCBS): 6,660 employees
Loyola University Health System: 6,000 employees
Biotech
Chicago's life sciences sector is growing. Currently, 36,172 workers are employed in 580 companies. This is the second-largest US metro for pharmaceutical manufacturing employees.
Chicago's major biotech employers include:
Abbott – 7,977 employees
AbbVie – 6,826 employees
Argonne National Laboratory – 2,695 employees
Fermilab – 1,750 employees
UL – 1,280 employees
Astellas – 1,253 employees
Takeda Pharmaceuticals – 1,100 employees
Information Technology
Chicago's tech industry has been growing and ranks among the top cities in the US for tech talent. The city now has more than 14,000 tech businesses and more than 341,000 tech workers across all industries. More than 123,500 in the metro area are employed in computer and mathematical occupations, according to the Bureau of Labor Statistics. Chicago was also recently ranked among the top cities to launch a high-tech career by PCMag.com.
This has been home to some of the tech industry's heaviest hitters, including Google, Groupon, Orbitz and CareerBuilder, and financial tech (fin-tech) companies Avant, Braintree, Enfusion, Morningstar and TransUnion.
The Windy City also has a thriving web, mobile and e-commerce industry, employing more than 130,400 locals.
Top employers in web, mobile and e-commerce include:
Walgreens: 9,484 employees
Motorola Mobility Holdings: 5,915 employees
Groupon: 2,000 employees
HERE: 1,100 employees
Enova: 1,040 employees
CareerBuilder: 1,000 employees
Orbitz Worldwide: 955 employees
Cars.com: 824 employees
Trunk Club: 818 employees
Salesforce: 800 employees
The Illinois Department of Employment Security has predicted a 10.5% increase in computer specialist positions – with job titles including computer programmer, software developer, database administrator and computer systems analyst – in the Chicago-Cook County area for a ten-year period ending in 2026. Computer-related occupations are currently very much in demand here; according to a recent survey of online job boards in Chicago by the Chicago Cook Workforce Partnership, the most posted positions in the area include:
Software developers, applications
IT project managers
Computer user support specialists
Web developers
Computer systems engineers/architects
Follow @goinglobal
Tweet to @goinglobal
Information on employment outlook for more countries can be found by logging into your GoinGlobal account!
Don't have an account? Sign up for a free online demo to learn how you can utilize GoinGlobal's employment resources.