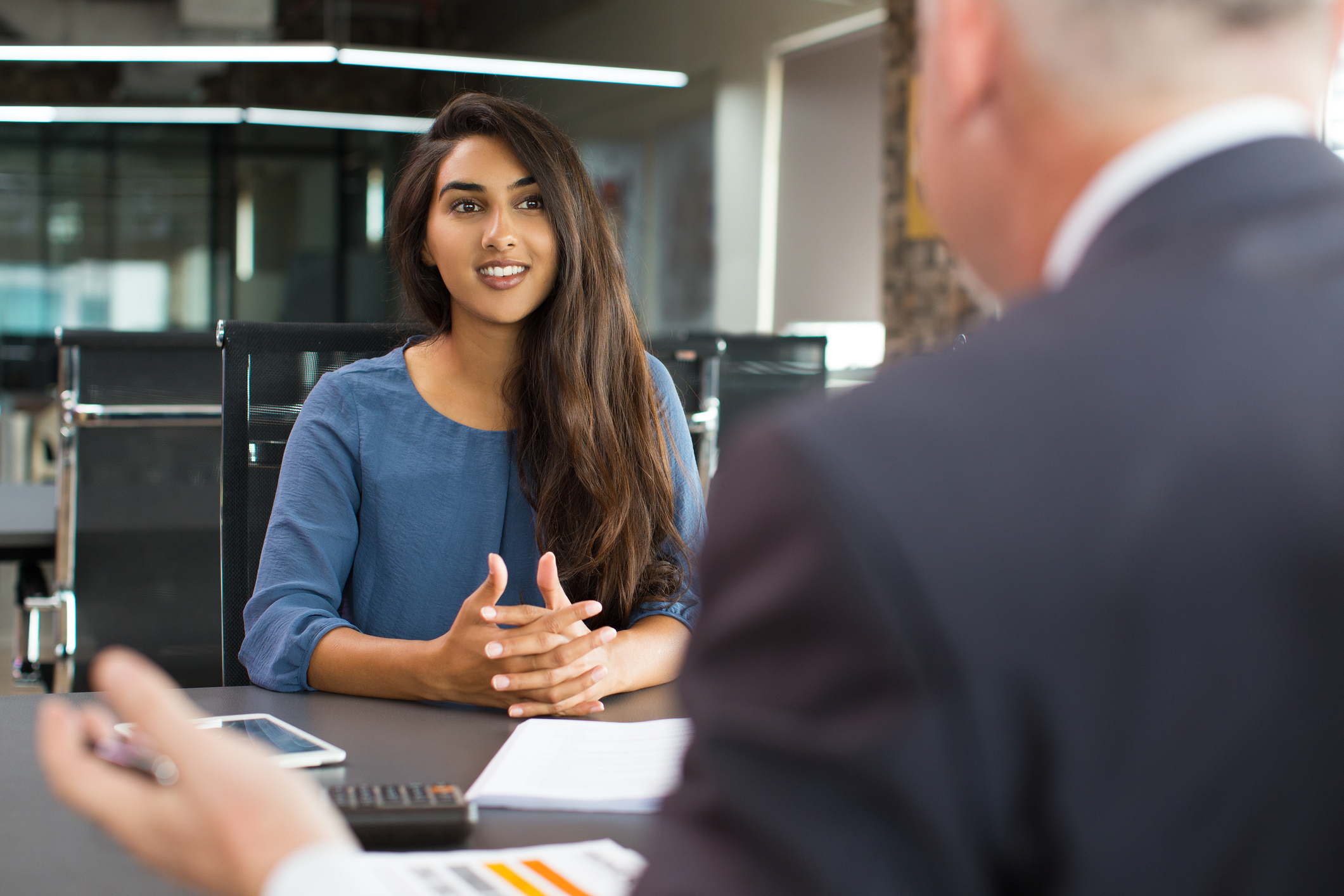 Applications for jobs in India usually are made by resumé or curriculum vitae (CV) and a cover letter, both of which should be in English. For each position you seek, you should submit a resumé that matches your skills and experience to the requirements set forth by the company.
An interview is your best opportunity to demonstrate your skills, experience, and personal style to a potential employer. Interviewing in India is like anywhere else in the world in terms of basic strategy, but there are cultural norms in India that present challenges. To achieve the best result, you should familiarize yourself with these cultural differences before your interview session.
Pre-Interview Prep
Most recruiters will contact you by email to set up an interview and communicate the interview schedule, though many of them will call you to confirm the time and place for the meeting. In some cases, they will use this telephone call to conduct an initial screening. If the recruiter is satisfied with your skills and experience, he or she will schedule the interview.
Before the interview, you should research the prospective employer thoroughly. The company's website, annual reports, press releases, official brochures, and other sources can provide important information relating to the company's business nature, mission and values, culture and structure, recent developments and its future direction, as well as the job's roles and responsibilities.
When you receive the interview call, it is best that you limit the conversation to the essential details: date, time, location (address, plus directions, if needed), name and title of the interviewer, and his or her contact number. This is not the time to bring up details of your current position or to ask about compensation (this will come up later during the interview process). Do not ask for the interview to be held via email or telephone — asking for a phone interview tells the recruiter you are not willing to devote your time and are not seriously interested in the position. In addition, there is a lot an interviewer can tell from a personal interview.
Maintain a level of formality in all interactions with the recruiter. Do not ask questions that are not directly relevant to the interview. Use formal language in all email correspondence, and do not take the liberty of calling the recruiter's cell phone unless you have been specifically invited to do so.
If you're living abroad, the company with which you're interviewing might be open to a Skype interview or other video conferencing interview. Prepare thoroughly for this by doing the same research you'd do for a face-to-face interview. Look presentable and choose a quiet spot for the call that is not prone to distractions. Test your internet connection, headset, and microphone ahead of time to ensure the interview goes smoothly.
In large corporations and organizations, the interview will be conducted by trained interviewers and will be very formal and structured. The interview process may vary depending on the position for which you are being interviewed. For entry-level positions, there typically will be two rounds of interviews. The first round will focus on the technical and functional aspects of your abilities. If you successfully complete this segment of the process, you will be invited for the second round, which usually is conducted by a human resources representative. During this round, the HR representative will try to assess your personality aspects. For lateral recruitment, there may be at least two rounds of technical/functional interviews, followed by the HR interview.
Prepare for questions that will be asked during the interview. By carefully going over the job announcement, you should have a fair idea of the kinds of questions that will be asked. Some questions are generic in nature and fairly standard for most interviews, while others will specifically relate to the position being filled. Also, you should carefully go through your resumé and prepare notes about achievements and examples that illustrate how you overcame problem situations.
Recruiters often will ask job candidates to describe their personal strengths and weaknesses, so make a list of three of each. Be ready to discuss specific examples of your skills and how you used them in previous jobs, emphasizing any achievements that resulted. Prepare multiple copies of your resumé to bring to the interview, as well as a list of at least two professional references and some examples of your work from previous jobs.
Rehearse before the interview. Anticipate possible questions and answer them aloud, or write the answers down. This can help improve confidence.
A note about social media
Social media increasingly has become a popular way for people to express themselves, but it also is popular among employers as a way to screen job candidates or to monitor the activities of current employees. When posting to sites such as Facebook, Instagram or Twitter, you should consider who potentially will be looking at your online profiles. Comments or other postings that reflect poorly on your character can have repercussions. You absolutely should avoid posting things that could be taken as bigoted or sexist, or that are critical of an employer. You also should avoid postings in which your judgment could come in question (e.g., images of drunkenness or drug use, or of any kind of criminal activity or antisocial behavior).
On the other hand, presenting yourself in a more professional light may be helpful in garnering career-building contacts.
Interview Conduct
When you are invited for a job interview, your goal is to demonstrate that you have the required skills and experience, and are the right choice for the job.
It is very important to arrive on time for your interview, so allow extra travel time in case of unavoidable delays. Before the interview, double-check the interviewer's contact number, address, and directions, and the contact number of the person who set up the interview, if different from the interviewer.
Workplace formality varies depending upon the region and industry sector, so you should try to dress appropriately for an interview. Choose interview attire based on the type of work environment and the position being sought. Men usually dress in Western attire; women may wear either Western business clothing (trousers are preferable to skirts) or Indian attire. Clothing should fit well and should not be gaudy. Present a neat, well-groomed appearance. Perfume or cologne should be minimal if used at all.
As a show of respect, you should use a person's professional title and first and last names in introductions. Always present a business card when introduced, as Indians are very conscious of protocol. Do not sit until invited. Allow the interviewer to set the tone of the meeting. Keep your mobile phone switched off, and maintain eye contact with the interviewer. Body language and posture are extremely important. Stay calm and relaxed.
The Interview
The interview process in India usually includes one or more interviews and, increasingly, psychometric testing. This consists of verbal, numerical and language testing, as well as personality profiling. Interviewers generally will focus on the education, skills and experience the position demands. You may meet with one or several interviewers at the same time.
Be prepared for such open-ended questions as:
Tell me about yourself.
Why did you come to India?
How do you like it in India?
What type of position do you expect to find in India?
How do you think your work experience translates to the Indian market?
Why do you think you are a good fit for this position?
What are your strengths and weaknesses?
Can you give specific examples of how you have handled stress at work?
Why did you leave your last job?
What is your long-term career goal?
Why are you interested in working for us?
What can you bring to the job that others cannot?
Where do you see yourself in five years?
Although these questions may be asked in a casual manner, they should be taken seriously.
Interviewers will interpret body language and assess a candidate on six points that can be remembered by the acronym 'PEOPLE':
Posture and gestures
Eye contact
Orientation — how you position yourself to the interviewer
Proximity
Looks/appearance
Expressions of emotion
Describe previous positions with clarity and in a way that brings those experiences to life. Talk about specific duties, assignments and accomplishments, targets you have achieved, and money saved as a result of your job performance. Try to explain about genuine complex/crisis situations you have successfully managed. Do not criticize former employers. Highlight your specific skills and achievements.
Sometimes, an interviewer may be interested in whether you are keeping abreast of changes or advancements in your profession. If you are asked about this, mention any relevant training programs in which you have participated, and explain how the learning opportunity helped enhance productivity in your work. In particular, you should highlight any certification programs you have completed, as well as any recent professional qualifications you have acquired.
Some positions might require long hours and weekend work, so you may be asked questions about whether you will be able to devote the time needed for the position. In addition, some jobs may require you to relocate or have a long commute — sometimes to areas where knowing only English can create personal difficulties. You should be prepared for this issue being raised and know that learning at least the basics of the local language will be a part of taking the position.
In most cases, your interviewer will give you the chance to ask questions, and this is a good opportunity to further show your interest in the position. Ask about the organization, its position in the market and its plans for growth. Ask for further details about the roles and responsibilities of the job, and how it relates to a career path within the company. You should not, however, raise the issue of salary or benefits.
It is fine to ask when you might expect to hear back from the organization, and what the hiring process entails. Ask for the interviewer's business card, and follow up with a thank you note properly addressed to that individual.
Post Interview
Do not wait more than a day or two to send a thank you email or letter. It should not include any type of inquiry regarding when the interviewer might call or what chance you have of being hired. This communication is not about job-hunting or networking — it's simply about being gracious. Your letter should thank the interviewer for his or her time and for granting you an opportunity to discuss your interest in the position.
Do not follow up repeatedly. Some employers will take extra time to finalize the hiring decision. You can follow up after an interview but should do so only once — repeated contact frequently will only frustrate the employer, and could jeopardize your chances of being selected for the position.
Do not attempt to add the interviewer to your social media circles or groups immediately after the interview is completed. Such a request may not be well-received by the recruiter and may be taken as an attempt to curry favor.
As a foreigner, you probably will need a visa to work in India. Confirm the employment of your company in order to apply for this visa. You should discuss visa details with your new employer after you get the job offer. You should check with your government or the Indian embassy or consulate in your country.
Follow @goinglobal
Tweet to @goinglobal
Information on the employment outlook for more countries can be found by
logging into your GoinGlobal account
, as long as your institution has a GoinGlobal subscription. Check with your career center to see if your school provides access to GoinGlobal.