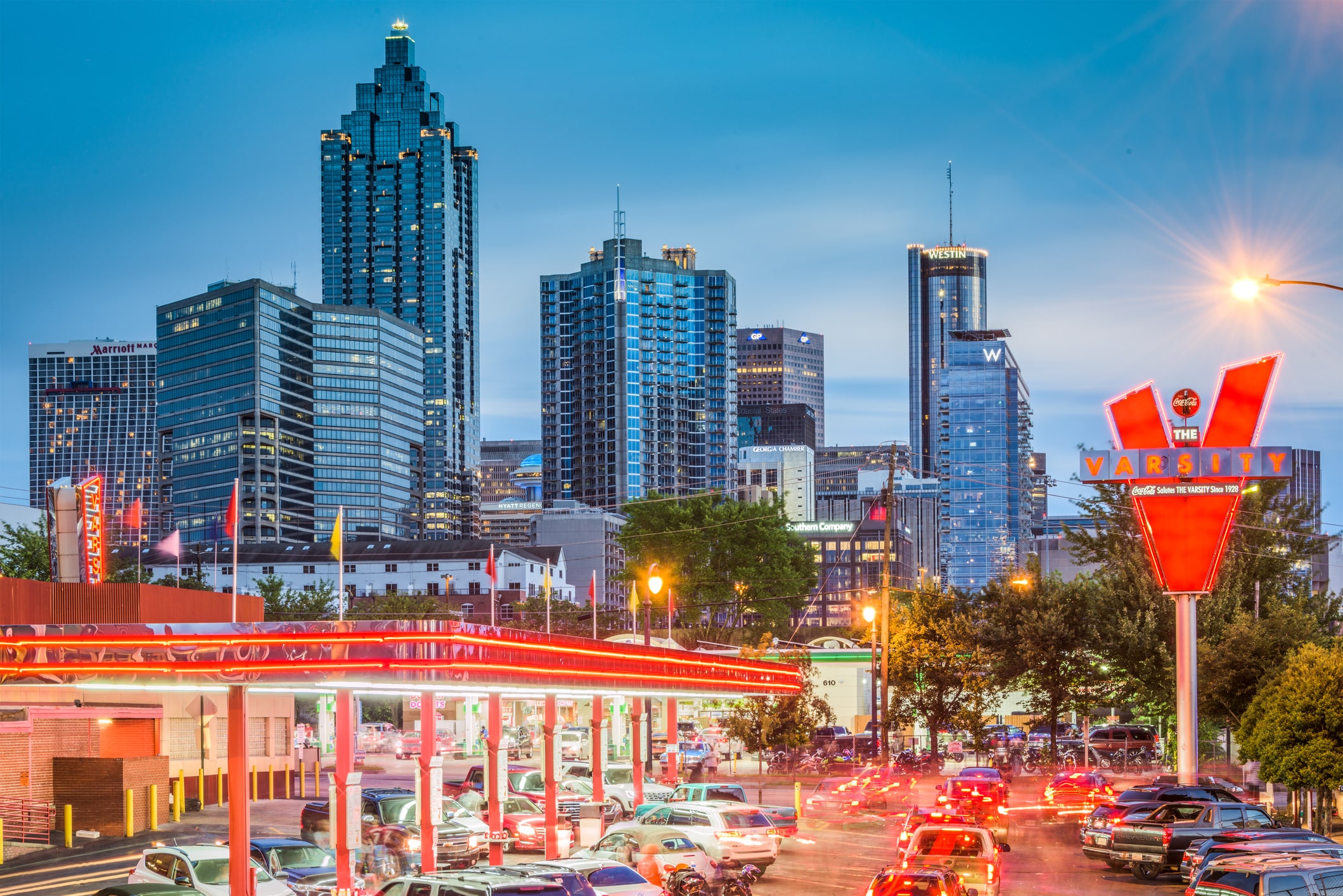 Despite its Southern flair, the city of Atlanta, Georgia, has always been more of a commercial city than an antebellum monument. Its diverse economy, top-notch educational institutions, and young, educated workforce provide an inviting venue for both multinational corporations and entrepreneurial start-ups.
It's a great time to live and work in Atlanta. WalletHub recently ranked it the third-best city in the US to start a career. It also rates among the best cities to start a business and one of the top cities for millennials based on cost of living, diversity, youthfulness, and crime and safety.
The area continues to grow quickly. Atlanta is the nation's ninth-largest metropolitan area, and the 10th fastest-growing big city in the US.
Key Industries
The metro region is home to 26 Fortune 1,000 companies – 14 of which are Fortune 500 companies. Atlanta has more Fortune 500 headquarters than any other US city except for Houston and New York.
Fortune 500 Companies with headquarters in Atlanta:
| | |
| --- | --- |
| Company | Industry |
| Coca-Cola | Beverage production |
| Delta Air Lines | Airlines |
| Genuine Parts | Wholesalers: diversified |
| Graphic Packing | Packaging |
| HD Supply Holdings     | Industrial distribution |
| Home Depot | Specialty retailers: other |
| Intercontinental Exchange | Finance |
| NCR Corporation | Computers, office equipment |
| PulteGroup | Construction |
| The Southern Company          | Utilities |
| SunTrust Banks                      | Commercial banking |
| United Parcel Service (UPS)   | Mail, package, freight delivery |
| Veritiv | Distribution |
| WestRock | Packaging |
The key to Atlanta's economy is its diversity. Key industries include:
Manufacturing and transportation
Finance and business
Education
Health care and biotech
Technology
Turner Broadcasting Systems and Cox Media Group made the city a globally recognized media and entertainment center, which fueled Atlanta's growing film and tourism industries.
Areas of Job Promise
Unemployment in the metro area stands at 3.7%. Its current unemployment rate is exactly the same as the state of Georgia and national jobless rates.
Overall, Georgia's economy is expected to grow faster than the nation's, though the state's job growth is expected to stay where it was last year, about 1.5%. Economists predict nearly 69,000 new jobs statewide this year, 70% of them in Atlanta.
The city ranked 19th for job growth of the top 100 best-performing metropolitan economies in the US by the Brookings Institute this year.
As the regional center of commerce for the Southeast, Atlanta's economy has something for everyone. Nearly every major business sector has a footprint in the city, though certain skills are more in demand than others. Jobs in highest demand this year are in technology.
In the short term, the metro area should expect to see an optimistic job market. According to a recent Manpower Employment Outlook Survey:
27% of employers expect to increase staff levels
4% of employers expect to decrease staff levels
69% plan to maintain current levels
none is unsure of their plans
Job prospects appear best in construction, durable and non-durable goods manufacturing, transportation and utilities, wholesale and retail trade, financial activities, professional and business services, education and health services, leisure and hospitality, and other services. Hiring in government is expected to remain unchanged.
Salaries
Salaries in Atlanta have been increasing more rapidly than the national average. Wages grew by 2.2% last year to a median of 54,829 USD annually. Throughout the US, the median wage increased only 1.4% last year.
The highest paying positions in Atlanta are (per average annual wage):
Internists, general: 268,350 USD
Surgeons: 266,600 USD
Obstetricians and gynecologists: 254,980 USD
Physicians and surgeons, all other: 232,410 USD
Psychiatrists: 221,980 USD
Family and general practitioners: 210,290 USD
Chief executives: 199,950 USD
Pediatricians, general: 177,930 USD
Dentists, general: 174,010 USD
Podiatrists: 161,130 USD
The following are average hourly wages for some selected occupations:
| | | |
| --- | --- | --- |
| Occupation | Average Hourly Wage, Atlanta (USD) | Average Hourly Wage, National (USD) |
| Accountants/auditors | 37.70 | 37.89 |
| Customer service representatives | 17.94 | 17.53 |
| Computer systems analysts | 44.91 | 45.01 |
| Financial managers | 74.02 | 70.59 |
| General and operations managers | 59.01 | 59.56 |
| Management analysts | 46.39 | 45.38 |
| Registered nurses | 35.19 | 36.30 |
| Retail salespersons | 12.68 | 13.61 |
Source: U.S. Bureau of Labor Statistics
Source: Metro Atlanta Chamber
Follow @goinglobal Tweet to @goinglobal
Information on the employment outlook for more countries can be found by
logging into your GoinGlobal account
, as long as your institution has a GoinGlobal subscription. Check with your career center to see if your school provides access to GoinGlobal.