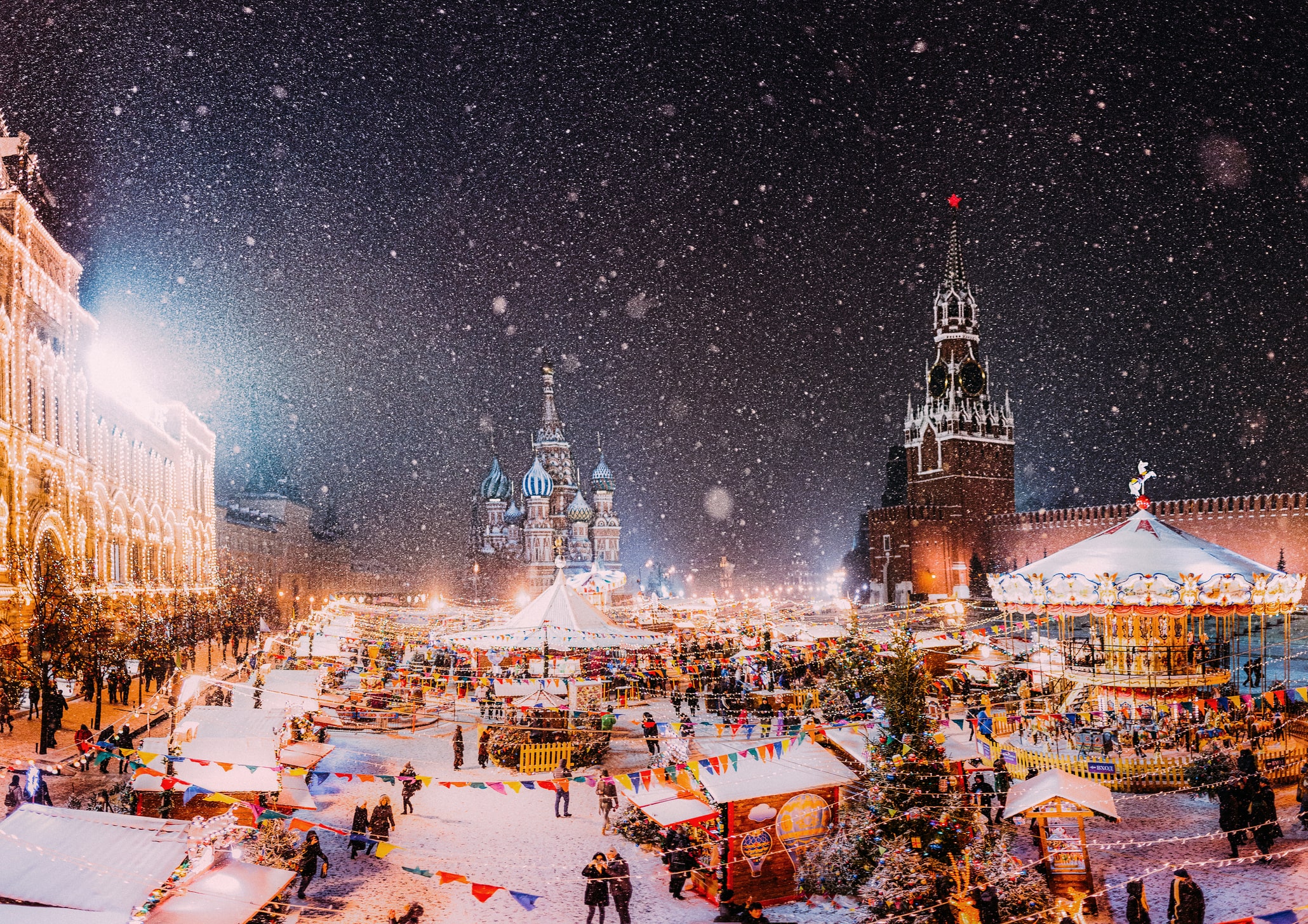 Russia is the largest country in the world, spanning two continents and stretching nearly 5,000 miles (8,047 km). Its largest cities are Moscow, its capital, and St. Petersburg. Moscow is home to most of the country's foreign nationals, and serves as its cultural, educational and business center. As is true with many countries, it is more expensive to live in metro areas than in rural regions. However, public infrastructure and services tend to be of higher quality in cities, and commutes from outlying areas can be long.
There are many options to get around Russia, however. The country's extensive transportation network includes a web of highways, railroads and airports from the western end of the country all the way to the Far East. Russian public transport is inexpensive and easy to use. However, signs are usually in Russian and familiarity with the Cyrillic alphabet is helpful.
Presently, seven metros in Russia have rapid transit systems. These are Moscow, St. Petersburg, Nizhny Novgorod, Novosibirsk, Samara, Yekaterinburg and Kazan. Non-Russian speakers should carry a metro map. Major expansions are planned for the metro systems in Moscow, St. Petersburg, Kazan and Novosibirsk.
Traffic congestion can be an issue in major cities, and especially in Moscow, where commute times from the suburbs can average 90 minutes one way. Russia's capital has been ranked the second-worst city for traffic congestion in the world.
Here are some options and tips for traveling through or to expansive Russia:
By Air
Because of Russia's vast distances, domestic air travel is a quick way to get to the far reaches of the country. A large network of airline flights serves local cities. Domestic carriers include Aeroflot, S7 Airlines, UTair and budget airline Pobeda.
Travelers should have their passports with them at all times. It is advisable to check the safety rating of an airline before you book, and generally best to stick to major airlines that are members of the International Air Transport Association (IATA), such as Aeroflot and UTair. Flying out of major (Class I) airports on regularly scheduled, instead of chartered, flights is also recommended. Airlines may bump you if you don't check in at least 60 minutes before departure.
By Rail
The country's rail network is one of the largest in the world. Russian Railways (English, Russian) provides both long-distance and suburban train services throughout the country. Train travel in Russia is generally reliable, convenient and on time, with stations located in city centers. Tickets can be purchased online, at ticket machines, at counters and using the RZD app on your smartphone. A one-way, first-class ticket from Moscow to St. Petersburg costs around 13,200 RUB. A business class ticket is 6,800 RUB. Tickets can be purchased on the Russian Railways website.
Moscow's metro system is one of the largest in the world, with 269 stations. Its newest expansion – the Big Circle Line (BCL) – will ultimately add 31 new stations by 2022. The metro system is connected to the Moscow Central Circle (MCC) light-rail system via 17 metro stations. The newest light-rail project, Moscow Central Diameters (MCD), is expected to be completed by 2024. The first two "diameters" are expected to open this year. The MCD-1 Odintsovo – Lobnya line will have 28 stations and 12 transfers to metro stations, and the MCD-2 Nakhabino – Podolsk line will consist of 38 stations. Both will also connect with the railway and the MCC. Three more diameters are in the works: Zelenograd – Ramenskoye; Aprelevka – Zheleznodorozhny; and Pushkino – Domodedovo. These are expected to relieve some of the capital's chronic traffic congestion.
The Troika travel card – the smart card used on the Moscow transport network – connects all forms of public transport used in the city. The Troika card requires a deposit of 50 RUB and is valid for five years. The tickets come in card form, as microchips in bracelets, key rings and finger rings, or can be carried on your smartphone using the Apple Pay or Samsung Pay apps. More information can be found on the Moscow Transport website (Russian, some English).
Several commuter towns now have direct rail lines into the capital city that can significantly reduce travel times. A few are listed below.
| | | |
| --- | --- | --- |
| Town | Distance from Moscow | Travel Time by Train |
| Podolsk | 44 km / 27 mi | 55 minutes |
| Odintsovo | 25 km / 15.5 mi | 30 minutes |
| Lyubertsy | 25 km / 15.5 mi | 35 minutes |
| Korolev | 28 km / 17 mi | 30 minutes |
Source: Expatica
From St. Petersburg to Moscow, travelers often ride overnight trains. For faster train connections between the two cities during the daytime, travelers can consider taking the high-speed SAPSAN train that reaches its destination within four hours. A one-way ticket costs about 75 USD.
St. Petersburg also has both a metro and tram network. The fare for a single journey is around 1 USD to anywhere in the city. St. Petersburg offers an array of travel cards to suit different commuting needs.
By Bus
Most cities in Russia have an intercity bus system. Moscow alone has 1,000 different routes. Tickets are sold at bus stations or on the bus. Bus travel can be time consuming, but inexpensive. Long-distance buses tend to serve areas that are not served by rail lines. Buses and bus stations are often crowded and chaotic, and lines at the ticket windows can be very long. Sometimes there is an extra charge for large bags.
Marshrutky are minibuses that generally serve the same routes as regular buses and are often quicker options. The fare is about the same as for regular buses. Moscow also has the world's largest trolleybus system.
By Car
Driving in Russia can be challenging for the uninitiated, and sometimes hiring a car and driver is preferable. The quality of roadways varies from well-maintained highways to unpaved roads. Russia's severe weather can also make driving treacherous. Drivers and pedestrians should exercise extreme caution to avoid accidents. Traffic jams are frequent in Moscow and St. Petersburg. Road signs are in Cyrillic.
In general, foreign nationals who wish to drive in Russia can use a foreign license for the first six months of their stay, provided they have a notarized translation completed. A Russian license is then required after six months in Russia. However, those with a Russian work permit or resident visa will need to obtain a Russian driving license within 60 days of obtaining a residence permit.
Safety and Security
Most foreign visits to Russia are trouble-free; however, foreign nationals are advised to avoid the North Caucasus region, including Chechnya and Mount Elbrus, due to civil unrest, and Crimea. Due to the ongoing, although occasional, terrorist threats, foreign nationals are advised to avoid public demonstrations.
Follow @goinglobal Tweet to @goinglobal
Information on the employment outlook for more countries can be found by
logging into your GoinGlobal account
, as long as your institution has a GoinGlobal subscription. Check with your career center to see if your school provides access to GoinGlobal.