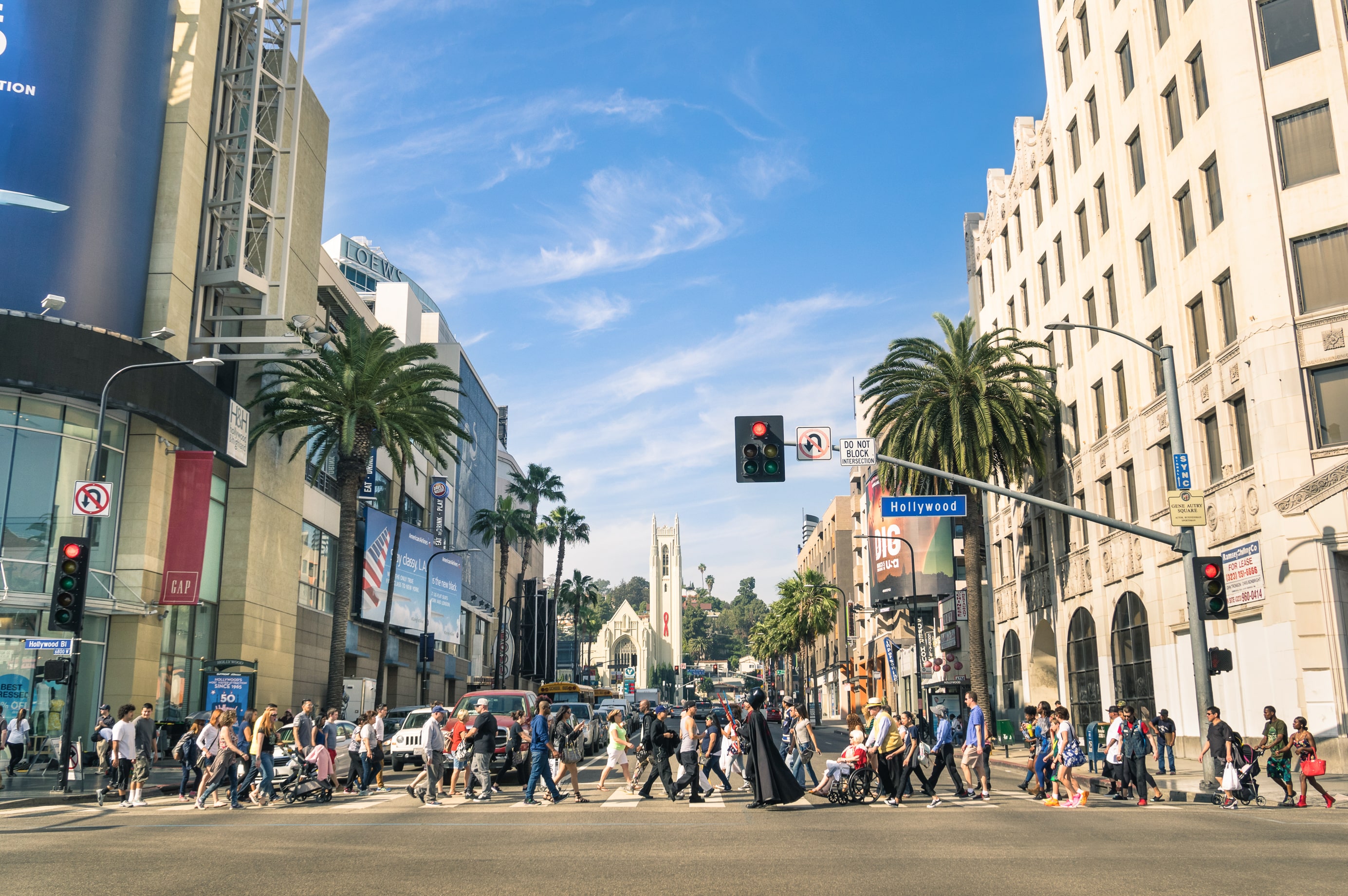 As home to Disneyland, the Grammy Awards, Hollywood Boulevard, and the Academy Awards, Los Angeles ("LA" for short) is often called "Tinseltown." This city is world-famous for its entertainment industry and, in particular, movie production. The area is home to many of the big names in cinema, including Paramount Pictures, Sony Pictures Entertainment, 20th Century Fox, The Walt Disney Company and Warner Bros. Entertainment. But there is more to Tinseltown than movie stars. Thanks to its proximity to both Asia and Latin America, the Los Angeles International Airport (LAX) has become one of the most popular ports of entry for immigrants into the United States, and the city's docks move more shipping containers than any other port in America. The LA region also has nearly five dozen colleges and universities and is the largest manufacturing center in the country. LA is one of the United States' most vibrant metropolitan areas. Los Angeles County has about 10.1 million residents, approximately one-quarter of California's population, making it the most populous county in the US. The area also boasts an immense, diversified economy and positive job growth. Its 3.9% unemployment rate is lower than it's been in more than a decade.
Expenses
Area residents do not necessarily make more money than the average American, but they certainly pay more rent. Los Angeles is one of the most expensive cities in the world, and housing costs are primarily responsible for the high cost of living. Living in Los Angeles costs 46.8% more than the national average, but that number is skewed by housing costs that are more than double the national average. Housing in the LA region costs 133.7% more than the national average. Locals do pay more than the average American for other living costs. Groceries cost 15.2% more, utilities cost 8.1% more, transportation costs 26.5% more, health care costs 7.6% more, and miscellaneous goods and services (like dry cleaning and clothing) cost 10.3% more than the national average. When planning a business trip to Los Angeles, one can expect to spend around 274 USD per night. That is the average per diem allowance, or daily reimbursement rate, for a federal employee who travels here on business, calculated to cover room, meals and incidental expenses. Los Angeles' housing market suffered during the recession, but things have improved. The median home sales price in Los Angeles County is 615,000 USD, tying the record for the highest sales price. The area also ranks third for rent burden in the nation, making rent too expensive for the average renter. The consensus is that housing expenses will continue to rise faster than incomes can keep up. Given the high cost to own, it is no surprise most Los Angeles houses and condos are rented rather than purchased. Approximately 63% of the area's 1.3 million homes are occupied by renters, compared with 45% of all homes in California and 36% of homes nationwide. Renting, however, is not a simple alternative to avoid high living expenses. Los Angeles also has one of the country's highest home occupancy rates (93.6%), meaning landlords can be choosier than renters. Rents also are increasing faster than incomes. The average monthly rent in the city of LA is 2,849 USD, an increase of 10.6% over last year. One-bedroom apartments rent for an average of 2,491 USD monthly, while two-bedroom apartments rent for an average of 3,279 USD each month.
Lifestyle
Ask an ordinary American to describe a Southern Californian, and he or she likely will paint an enticing picture of a tanned beach beauty with a nice car, an aversion to stress and an eye for style. While the accuracy of this stereotype is questionable at best, this sunny corner of California is the envy of many Americans. The Los Angeles beach scene is as much a culture as it is a reality. True, the area has its share of surfers and sunbathers, and there are few Angelenos who have not waded in the waves. But most don't visit the beach every day. Much of the coastline is not within easy reach, thanks to the exclusive gated communities of the rich and famous. And those who do find their way to the water often prefer not to swim in it, because the waves can be polluted. It is true, however, that Angelenos take pride in their cars. Los Angeles is a car culture, and locals spend a lot of time driving. This gives rise to more than 80 radio stations, countless drive-through fast-food restaurants and, yes, a lot of expensive cars. One of the biggest influences on area culture remains the entertainment industry. While Southern Californians do care about world affairs and politics, it is tough to find a conversation that does not eventually mention a movie. Newspapers are apt to report box office receipts on the front page, and Angelenos are always on the lookout for a celebrity sighting. The entertainment industry has long attracted some of the nation's most creative talents (think Walt Disney). This gives rise to a culture that values inventiveness. Depending on the job, creativity in Los Angeles can be more important than hard work.
Neighborhoods
LA is home to more than 470 neighborhoods, according to Curbed. Beverly Hills is a well-known residential and shopping area of the rich and famous. Hollywood, although not the epicenter of the movie industry anymore, is still the target area for tourists. Most of LA's entertainment production happens in the San Fernando Valley (colloquially called "The Valley"), where Disney, NBC, Universal Studios and Warner Bros. hang their hats. To the east of LA, proper is historic Pasadena, the home of the annual Rose Bowl and the Tournament of Roses Parade. There are also several world-famous beach towns in the area, including Malibu, Santa Monica, and Venice Beach. When considering which neighborhood to live in, commute time is a factor. Living close to work will cut down significantly on time spent in traffic. Other considerations include whether you want to live near trails, how tolerant you might be to extreme heat (if not, steer clear of the Valley) and how walkable the neighborhood.
Transportation
About 77.6% of Los Angeles County workers commute alone in their cars, according to the US Census Bureau. Los Angeles traffic is considered the worst in the country, and its confusing and congested web of freeways is notorious. The area has infamous traffic jams. The average commute time countywide is more than 30 minutes each way, four minutes longer than the national average. Los Angeles is working to change residents' car-dependent commuting habits. Voters recently approved a countywide transportation tax to fund subways, light rail lines, and other transit. The area already has an extensive public transportation network. Metro Rail, Los Angeles County's rail mass transit system, consists of two subway and four light-rail lines. The region also has two rapid bus transit lines. However, only 10.1% of people in Los Angeles County get to work using public transportation.
Environmental Concerns
LA's idling engines fuel another problem: smog. The city is almost always near the top of the American Lung Association's list of most polluted cities in America. This year it took the number one spot. City officials have launched an initiative to plant a million trees, and hybrid cars are becoming more popular. As a result, the city's air quality has improved over the past decade.
Leisure
Angelenos spend much of their leisure time outdoors. They surf and sunbathe along Los Angeles County's 75 miles (121 kilometers) of Pacific coastline. They skateboard and rollerblade along the boardwalks. They sip coffee at outdoor cafés. Even snow skiing is popular here, with the nearest ski resort (Mount Baldy) only 45 miles (72 kilometers) away from downtown. A common quip — and an accurate one — is that in LA one can surf and ski on the same day. Griffith Park, one of the largest urban wilderness municipal parks in North America, lies in the middle of the city. Its 4,300 acres (6.7 square miles, or 17 square kilometers) include mountainous forests, hiking and biking trails, parkland and picnic areas. Visitors will find botanical gardens, an equestrian center, golf courses, museums, and an observatory. Griffith Park also houses the Los Angeles Zoo, complete with mammals, reptiles, birds, and the new "Elephants of Asia" habitat. One museum that is not within Griffith Park is the Natural History Museum of Los Angeles County. This is the largest natural history museum in the Western United States, with a collection of 35 million specimens.
Sports
Sports fans can almost always find a game to attend. The area has two Major League Baseball teams (the Angels and the Dodgers), two National Hockey League teams (the Ducks and the Kings), two National Basketball Association teams (the Clippers and the Lakers) and two Major League Soccer teams (the Galaxy and Club Deportivo Chivas USA). Major league professional football is once again part of the Los Angeles sports scene; the National Football League's Rams, which left Los Angeles for St. Louis in 1994, have returned, and the San Diego Chargers recently moved to LA. Football fans here also watch college football. The University of California, Los Angeles (UCLA), and the University of Southern California (USC) both play NCAA Division I football in the Pacific-12 Conference.
Follow @goinglobal Tweet to @goinglobal
Information on the employment outlook for more countries can be found by
logging into your GoinGlobal account
, as long as your institution has a GoinGlobal subscription. Check with your career center to see if your school provides access to GoinGlobal.