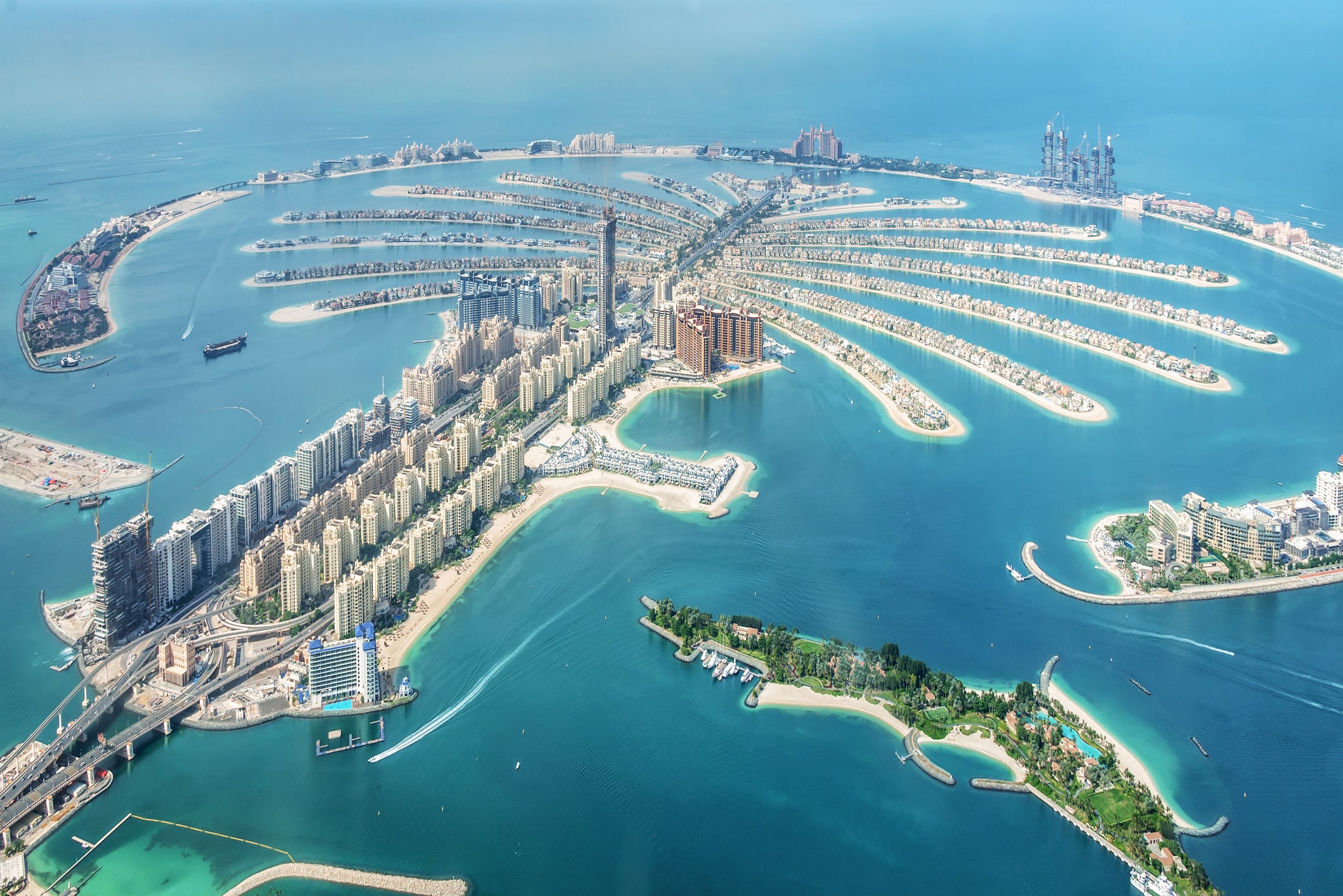 Job interviews are hard work. They take preparation. Research and practice are involved. Proper grooming and attire play an important role. Your comportment is key, so you must master your facial expressions and posture. This is just a start of what it takes to excel in an interview. Often, there are other factors that complicate the already complex process. For instance, what about when you are interviewing in a foreign country? Then, there are additional norms to understand and unfamiliar expectations to remember. This is especially true when interviewing in the UAE. We've complied some helpful tips to prepare you for interviewing and interviewing well in the UAE.
Understand the Country
The most important part of preparing for an interview in the UAE is having some understanding of the country itself.
The UAE was established in 1971, and it has grown rapidly from a desolate desert land to a cosmopolitan, multicultural country booming with business and tourism, especially the emirates of Dubai and Abu Dhabi.
Because it looks so modern, it is easy for newcomers to assume they understand the culture and the context. But, even Arabic speakers from the region and beyond often underestimate the cultural differences in the Gulf States.
The UAE population consists of people from more than 150 countries living and working in intercultural harmony, with Emiratis making up less than 20% of the total working population. Most foreign workers are recruited on a contractual basis. These contracts often range from one to three years, depending on the project and type of institution.
Getting Prepared
Regardless of the type of job you're seeking, preparing for an interview is extremely important. There are several steps you should take prior to the interview:
Research the company thoroughly — its vision, mission, goals, products and services.
Be prepared to discuss the industry, including major players and competitors.
Gain a clear idea of the job description and the expectations of the role.
Be able to cite specific examples and anecdotes from previous jobs to demonstrate relevant experience.
Prepare a few thoughtful and well-researched questions for the employer.
It is recommended to confirm the appointment 24 hours in advance. Gulf Arab culture tends to be more flexible with timing and maintaining appointments so a candidate will want to do their utmost, in a professional manner, to ensure the timing and location of an interview has not changed. Given the size, complexity and frequent construction, applicants are advised to always leave ample time to arrive in time for their appointment. The Emirati tendency to arrive to meetings late does not mean applicants can act likewise.
Clothing
Conservative, formal business attire is recommended. The Emiratis, in general, are immaculate dressers. Most of the men wear their national dress, the kandura, which is a long white robe, and some offices may have dress codes. In order to respect local customs, dress conservatively. It is inappropriate, however, for a foreign candidate to wear local dress.
Non-Emirati men should wear a conservative suit. Women should dress conservatively and modestly, with their legs, collarbones, shoulders and arms sufficiently covered. Women also are advised to wear closed-toe shoes. Both men and women should wear very non-revealing clothes that do not accentuate the figure. Tattoos are frowned upon and should be covered. Piercings are more accepted, although the local acceptance of piercings in a professional context is in line with international trends, meaning job applicants are advised to remove unusual piercings that would distract from employers focus on their candidacy. You should always exhibit good manners and, if the interview is face-to-face, refrain from strong perfume and aftershave.
What to Bring
As a general rule, check with the interviewer in advance on any materials needed at the interview – e.g. hard copies of your CV, diplomas and visa information. In the absence of any specific instructions from the interviewer, bring a copy of your passport and a hard copy of your CV to early-stage interviews.
Arriving
Punctuality is very important in any interview setting, and being on time is essential to a successful interview. Allow plenty of time to get to the office – given the frequent construction in the Emirates and unreliability at times of local transportation, it is best to plan on arriving a little early. If despite best efforts one will arrive late, it is essential to always update the party you are meeting with at your soonest disposal that you are running late. On arriving late, it is unnecessary to dwell at length on your tardiness – better to apologize promptly and commence the appointment.
In most offices, doors are generally closed to keep in the air conditioning. You always should knock before entering a room, and then introduce yourself to the receptionist, who will present you to the interviewer.
First impressions are critical. To be successful, you must demonstrate a good appearance as well as good manners. Always be polite — not only to the interviewers, but to anyone in the office or work environment.
Greetings
Shaking hands is a sign of confidence and respect, as is making regular eye contact. In the Middle East, handshakes may last a long time. As a sign of respect, you should wait for the host to withdraw their hand before doing the same. When meeting a host of the opposite sex, wait for the host to extend their hand to shake, as some religious Muslim women and men will not touch members of the opposite sex to whom they are not married. Placing your right hand over your heart is an appropriate gesture that can take the place of a handshake.
UAE society is formal and places a priority on formal titles. Hence at a first or second interview, always address the interviewer with the full title of their position or degree, e.g. Dr., Professor or Chairman. Do not refer to the interviewer by their first name unless they request this.
It is customary to present a business card with English on one side and Arabic on the other. Present the card with the right hand. (The left hand may be considered unclean.) When receiving a card, look closely at both sides, and thank the person handing out cards.
Body Language
Good posture is important; stand tall and sit up straight. While sitting, do not show the sole of your shoes to the interviewer, as this is considered extremely rude. Remain aware of the placement of your feet at all times; when in doubt, it is best to keep both feet planted firmly on the floor.
Present a confident and intelligent demeanor during the interview. You should come across as sincere, genuine and enthusiastic. In addition, you should demonstrate flexibility, cultural sensitivity and transferable skills. Diligent research about the potential employer and the country will help you come across as self-confident.
Sabur
Patience is of paramount importance in the Arab world. Gulf Arab culture moves at its own pace, and remaining patient and flexible is essential. Phrases such as Insha'Allah ('God willing'), Ma'alish ('don't worry') or maafi mooshkila ('no problem') are commonly used. (If work does not get done, it was God's will.) The quality of sabur, meaning patience and steadfastness in the face of adversity, is much admired. It is important to be aware of these concepts. If you are kept waiting for a long time before you interview, regard this as an opportunity to demonstrate patience.
The Interview
Most institutions are multicultural, but some institutions may have a predominance of employees from one region or country. In some offices, the management may be Arab, while the administration is Western. For this reason, it is difficult to predict exactly who the interviewer(s) will be.
In most Arab-related offices, ghawah, a traditional cardamom-flavored coffee, is served either by the host or a coffee server. You should always accept the cup with the right hand, and once finished, the cup should remain in your right hand. (The left hand may be considered unclean.) The coffee server will return and pour a second, and then a third, cup. While it is impolite to refuse the first cup, especially if it is your first visit, it is acceptable to decline an offer for a refill. To politely decline, hold the cup up with the right hand and tilt it from side to side to communicate that no more coffee is required.
Never interrupt the interviewer, even if you know the question that will be asked. Wait for the interviewer to finish speaking before responding. Respond succinctly to each interview question, waiting for cues from the interviewer to further expand upon an answer.
You should be open to discussion of personal matters, including family, life in general, previous work experience, skills, any overseas experience and reasons for seeking a change in jobs.
Other Important Points to Keep in Mind
Personal relationships are extremely important to Emiratis. Personal connection, or wasta, is the influence someone has because of who they know. Wasta helps open doors and facilitates seemingly difficult tasks.
Not all establishments in the UAE are equal opportunity employers. Some employers may discriminate based on ethnic or national origin, as well as gender or education.
Emiratization is an initiative of the UAE government to reduce unemployment among UAE citizens. Unemployment of UAE citizens is a pressing issue, and attempts have been made to implement Emiratization initiatives in various sectors, such as public relations (immigration and government relations positions), secretarial work and human resources. Private sector jobs in banking and insurance have been highlighted as priorities for Emiratization, and quotas have been imposed on companies to facilitate employment of UAE nationals.
Compensation and salary packages should not be discussed in the initial round of interviews. It is prudent to wait for an offer rather than quote a figure that may be too low or too high. Take time to research the current compensation packages for a person of similar rank.
Send a thank you message via email to acknowledge the interviewer's interest and the time they spent with you. The message should emphasize your continued interest in the position and should express hope to have further discussions. If the interviewer asks for a business plan or project proposal, submit the document with the required information in as timely a fashion as possible.
Follow @goinglobal Tweet to @goinglobal
Information on the employment outlook for more countries can be found by
logging into your GoinGlobal account
, as long as your institution has a GoinGlobal subscription. Check with your career center to see if your school provides access to GoinGlobal.